Catalina Rockers
My outdoor update continues and I am so excited to share more Serena & Lily gorgeous pieces with you. Over the past few years, I have been slowly adding some Serena & Lily pieces into my home and I will share those with you as well. I have come to love their quality, coastal style, and exquisite craftsmanship. There are tons of imitation pieces on the market, but nothing, in my opinion, compares to Serena & Lily's craftsmanship. In my last blog post, view here, I furnished the left side of the front porch using the Pacifica bench, from Serena & Lily. I loved the Pacifica bench so much that I decided to continue the same sort of modern coastal style on the other side of the porch. Today, I will be showing you the right side of the front porch. I chose 2 Catalina rockers for my front porch in driftwood to complement the Pacifica bench. These rockers are just so generously sized. According to Serena & Lily "Inspired by the look of wickerwork and rattan, our handcrafted resin designs offer the same attention to form and texture – plus a weather-friendly construction that's made to last". This is so important to me because it rains a lot in Chicago, and although, I have these rockers at the covered front porch right now, I also move them to the backyard pool area when needed. See below.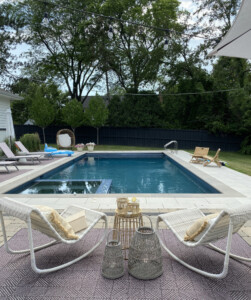 They look amazing by the pool! Right? My husband and I often sit here and watch the sunset or drink our morning coffee here. Where do you think they look better? The front porch or the pool? I cannot decide. The other day, my husband rocked himself to sleep right here! This is the perfect spot for catching up on my bookclub book and watching the kids jump in the pool and do cannon balls. The Catalina rockers add to the modern, yet coastal vibe that I have aimed for in my backyard. They are just perfect. I am thinking that I will leave them here for the summer while the pool is open and bring them to the front porch, once we close up the pool for the season. If you have been following me for a while, you know how much I love versatile pieces. By versatile, I mean pieces that look good in several places in your home and have great functionality. The Catalina rockers have proven to be great versatile pieces that I know my family will enjoy for many many years to come.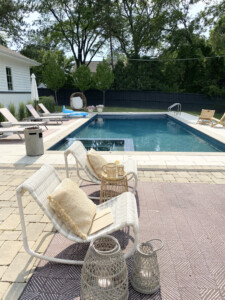 Summerland Lanterns
In the photos above you will see the Summerland Lanterns, also from Serena & Lily. These light and airy, open- weave design lanterns add a touch of texture and artistry to my backyard. I love the ambiance they bring at night when lit and what I love most of all, is that they are made of a weather- resistant rattan that will last for years in my climate. The driftwood colorway looks amazing against the driftwood Catalina rockers as well.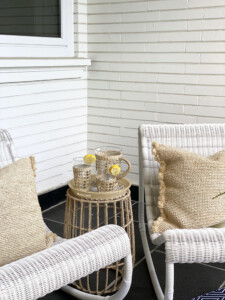 Cayman Pitcher Drinking Glasses
In addition to the Summerland lanterns, we use the Cayman pitcher and glasses from Serena & Lily. Made of recycled glass with rattan removable covers, they are the perfect addition to my summer entertaining collection. I love using them with guests for lemonade by the pool, or myself for some iced-tea. They are so much more interesting than a typical drinking glass and they add to that modern-coastal feel that I just love!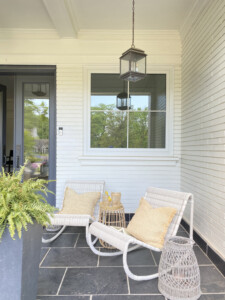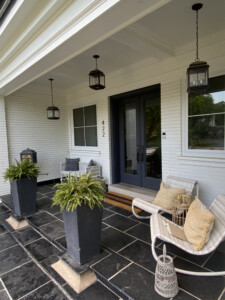 As you can see in the photo above, my front porch is now complete and it welcomes guests upon entering our home. It gives the front porch the modern coastal feel that I have been craving for this space and it continues into the backyard. Slowly, but surely I will be adding more pieces from Serena & Lily to complete our outdoor pool area!
My Favorite Serena & Lily Essentials
Below, I have all my Serena & Lily essentials linked for you. I cannot wait to receive my 2 outdoor hanging chairs, which I will be hanging both indoor and outdoor. Outdoor in the summer and indoor in the winter.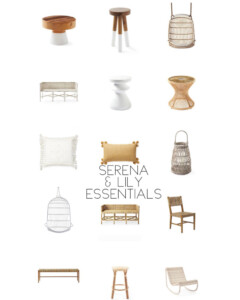 These pieces have changed our life in many ways. The rockers gave us a place to rest and watch the sunset after a long day of work and they have given us a great spot to watch the kids at the pool. Over the past few years, Serena & Lily has quickly become my go-to for coastal-modern furniture pieces that will last the test of time. Having high quality stylish pieces around my home is such an important factor in furnishing my home. I can't think of a better place to find these essential pieces. Yes, you may have to pay more than HomeGoods, but it is worth every penny. Trust me! I have been so impressed with everything from Serena & Lily. I hope this inspires you to add some great-quality outdoor pieces to your outdoor space from Serena & Lily!