One of the hardest things that I find to style is a shelf. But, over the years, I have learned that less is sometimes more. If you carefully choose what to place on a shelf, it should be much easier on the eye and draw your viewer in. I set out to declutter and refresh my living room shelves. Rather than completely clearing the shelves, I looked at the shelves and knew that I had to divide these up somehow. So, what I did is visually divide each section into two. It's much easier to work with a smaller section. I chose 1-3 items to place in each section. In this case, the stack of books I have counted as (one) item. Once I did that, I started removing things and editing until my mind felt at ease. I immediately knew I wanted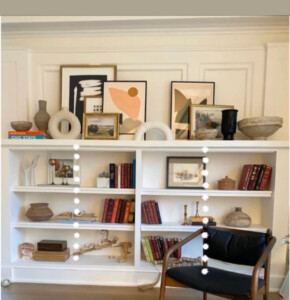 the shelves to be mostly neutral and maybe have a pop of color. So, I flipped the books over so that the pages show rather than the binding. Once I flipped all the books over, I started choosing items that are meaningful and work well together, leaving 2-3 items per shelf.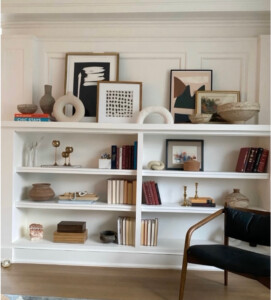 I kept editing, stepping back and I kept working. I even took photos over and over. I find that looking through the lens helps you see things differently than with your naked eye. Every time I would remove another item, I would hesitate, but once I did, the shelves looked so much better. I left areas that are void of anything and this is okay. I always tell my clients that you do not have to fill every wall or every inch on a shelf. Our homes need room to breathe. This process took a few days of revisiting, but at the end, I felt like I had accomplished a much more decluttered look, and simplicity is what I am craving during this New Year!
THE AFTER (LEFT SIDE)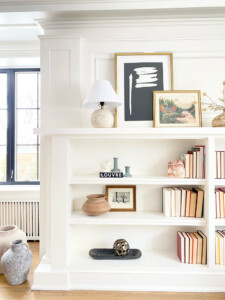 THE AFTER (RIGHT SIDE)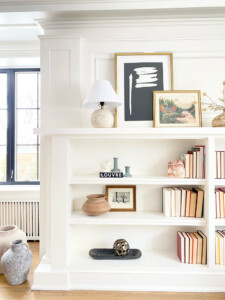 Now, let's talk about some must haves for your shelves… Books, are the number one thing you must have. I love mixing books with other items. I love mixing vintage or faux vintage pots, knots, vases, candlesticks, and vintage art. Some paper mache' bowls add texture, or baskets work well too. In my living room, I opted not to add baskets because I wanted it to feel very artistic and sculptural. I have linked some of the items that worked really well on my shelves for you below and some things that can really look beautiful on your shelves.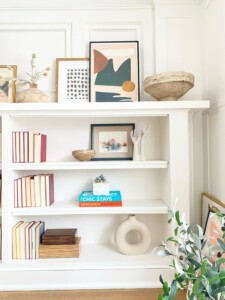 I hope this gave you some inspiration to freshen up your shelves or any little space or corner of your home. Just start somewhere and you will be so happy with the outcome!