So much progress has taken place in week 3 of my One Room Challenge. If you missed Week 1 and Week 2, you really should catch up because last week I revealed my wallpaper selection which has really helped guide the rest of my selections. This week, I want to discuss my paint selection and our media area for the kids video gaming.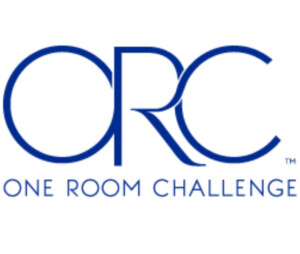 One Room Challenge Brands
I had put a phone call in to my painter so that I can get on his schedule because I knew that finding contractors right now is not the easiest. So, when he called me last week and told me he can come on Saturday, I jumped for joy. I thought of painting on my own for a hot second and then I came to my senses. Yes, I can do it, but I really wanted a neat job and when I painted rooms before, I really would make a mess and spill paint on the carpet, etc. Ha! So, Lucio came to my rescue on Saturday.
First off, I wanted to say that choosing a paint color is a daunting process. This is especially true when you are pressed for time. One of the sponsors of the One Room Challenge is Kelly-Moore Paints, they have been around since 1946. They offer an array of low VOC paint colors. Kelly-Moore Paints sent me the paint sample box and booklet right away. I was so impressed by this! Wow, this is worth investing in and having in your home. I know I will keep mine handy for future projects and for clients. My painter told me that he loved the quality of the paint. It is nice and thick and absorbs quickly. It does not splatter and splash and make a mess. He said if it were a cheaper quality paint, he would have needed to put more coats on, but since it is thick, he only needed two coats.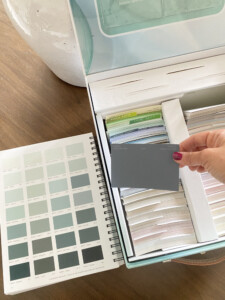 Landing on the color, Harrow's gate, was no easy feat. I decided to try to pull a color from my wallpaper swatch. And since I was pressed for time, I did not even bother getting actual paint samples. I used the little color cards that came in the swatch box and taped them up on my basement walls. I went back and forth from dark blue, to blue-gray, to blue-green, to light blue, to grayish blue…you get the picture. I knew that really any color would look amazing and it was just a matter of choosing one.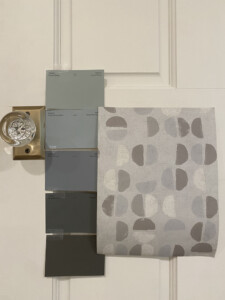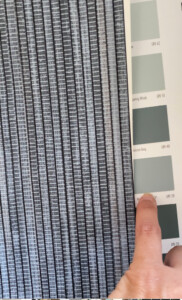 Once I switched my wallpaper to the grasscloth, you can read about that here , picking the paint color became easier and so I narrowed it down to three and from there, I picked "Harrow's gate"LRV 28- a medium blue, with some hints of greenish gray.
As soon as the paint went up on the 6 doors I had planned on painting, I knew I made the right decision. The doors really started to pop against the white shiplap. I had decided to paint the 6 closet doors because that wall really needed some contrast. I think it turned out amazing.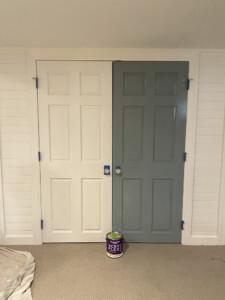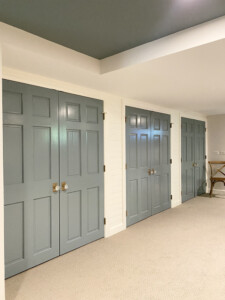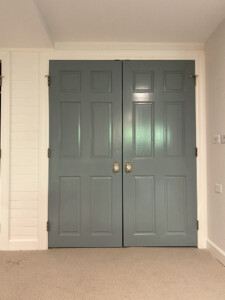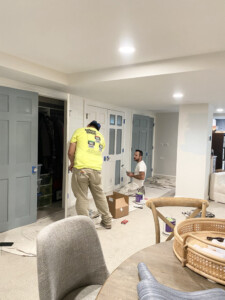 I thought it would be super fun to paint just one part of the ceiling. I decided to paint the ceiling above the round table, in the board gaming area of the playroom. However, I did not want to reveal this part of the basement just yet, you will have to stay tuned for a few more weeks.
There was lots of progress this week on my One Room Challenge. Another item that got delivered was the media cabinet from Castlery. Castlery has so many furniture options and I knew that the Luka media cabinet would work perfectly for the kids gaming area. It cleared the mess, the cords, and everything is now tidied up in one space! Take a look!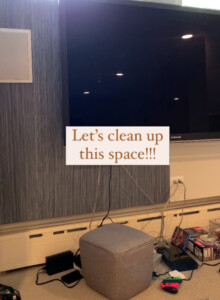 What I love most about this particular media cabinet is the sliding slatted doors. They are perfect for little fingers, and because the doors are slatted, the remotes can sensor right through them. Also, I love the low, modern profile. Plus, the walnut color is a bonus! In addition, the cabinet slid right out of the box, without any assembly, now that is my kind of furniture!
Make sure to come back next week when I talk about my rug selections. But, please head on over to these other talented designers blogs to see what they are up to for week 2 of the One Room Challenge.
,Albie Knows| ,At Home with Savvy | ,Beth Diana Smith | ,Eclectic Twist| ,Erika Ward Interiors,From House to Home| ,G. Lebron Interiors | ,Goldalamode | ,Home Made by Carmona| ,Impeccable Nest ,Jeweled Interiors| ,Joyful Designs Studio| ,Joy Street Design | ,Our Fifth House| ,Peony & Honey,Pinch Plate Party | ,Rebecca Propes | ,Reem's Design | ,Saudah Saleem Interiors | ,Whitney J Decor