It is week 2 of the One Room Challenge, and things are moving underway in our basement playspace. I am finally done cleaning it out and I already feel better. It is always easier to start with a blank canvas. In Week 1, I briefly described the space I will be working with and this week I would like to mention all of the brands that I will be working with, and I am so excited to finally reveal my moodboard!
One Room Challenge Brands
Every week I will be highlighting a brand or two and talking a bit about their products.
The moment I knew I was doing the ORC, I knew I had to introduce some wallpaper into the design. I knew it would give the space, the pop I have been craving. And I think starting with the wallpaper will help dictate the design for the rest of the space.
Tempaper Wallpaper
In honor of International Wallpaper Week, I thought it would only make sense if I introduced you to the wallpaper I will be using! Would you believe me if I told you that I had maybe 6 iterations of this moodboard. Yes, it takes time to land on exactly what you envision for the space. In fact, this was the second wallpaper that I actually stuck on the wall. I ordered six samples from the brand Tempaper. Tempaper specializes in peel n' stick wallpaper for any space. Their wallpaper rolls are sold in single and double rolls which works great depending on the size of your space. I went ahead and decided on the coffee beans wallpaper. Tempaper offers wallpaper in grasscloth, burlap, textured, repurposed wood, faux wood, damsel, and shiplap styles. There are virtually hundreds upon hundreds of styles to choose from. I narrowed my selection down to 6. Even though I have textured walls, I went ahead and decided to go for it. Tempaper's website suggests that if you have textured walls to go with a darker wallpaper. Tempaper was so wonderful and they sent me the rolls I needed. I was adamant that I wanted to stick with neutrals and stay true to my light, bright, airy style. And since this was a basement, I did not want it to feel "dark". But, I was wrong thinking that a darker wallpaper would make my basement feel "dark". More on this later, when I reveal the wallpaper I 'actually' chose.
The samples were shipped to me so promptly and that really gave me a huge headstart on figuring out the rest of the space. Here are the wallpaper samples from Tempaper on the basement wall.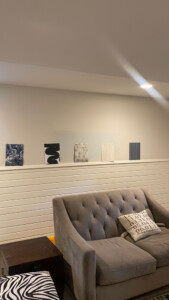 I loved all of them and I knew that each one would take the basement playroom design in a different direction. I ordered the coffee bean wallpaper and started to stick it to this first wall here in the basement.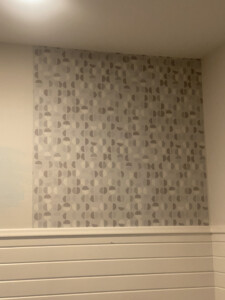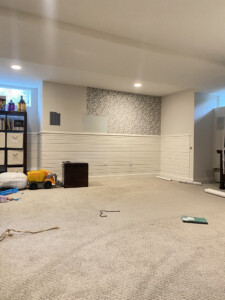 I immediately knew that this just is not the one. It just didn't do anything for the space. I felt like it just fell flat, maybe because the carpet is so beige and it kind of all blended in. I thought this one would be beautiful in a nursery or modern office space. So, I went back to the drawing board and grabbed my samples again. This time, I wanted a pop against that shiplap, but I wanted a very clean look. So, I remembered that Tempaper has amazing grasscloth looking wallpapers and I knew this would give me the modern feel I was after. I even came across this particular one on the Crate & Barrel website and it looked super chic and rich to me! They sent me the Chambray grasscloth. As soon as it went up I got goosebumps! Hurray, victory!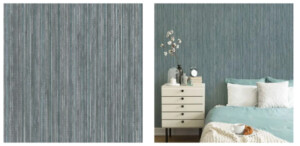 Look at the difference. I needed this pop of color down here. This helped push me out of my comfort zone. Tempaper has so many options, I would even go more bold next time around and do a really fun pattern. This Chambray has won my heart though!
It really made that shiplap pop. I knew I did not want to repaint that shiplap because that would be a major undertaking. But, the wallpaper really made it feel crisp and more inviting! And Tempaper wallpaper is so simple because it is just a peel n' stick…no fancy glue or adhesives needed, and no mess. What's more, you can peel it off in a few years if you want to change the space again without major damage to your walls!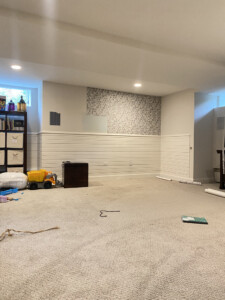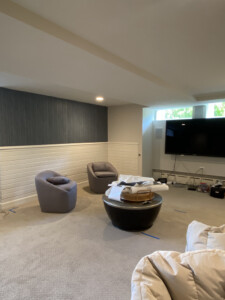 I continued the wallpaper around the perimeter of the playspace and around the tv area. However, I did not want to reveal too much right now, so you will have to wait to see more! This definitely taught me to be patient and your vision will eventually come to you. I am so glad I listened to my gut and switched out the wallpaper. As much as I loved the first one, it wasn't right for my space and that is okay because Tempaper has hundreds upon hundreds of other choices. I cannot wait to show you more of this wallpaper. It is just so luxurious looking and inviting!
Make sure to come back next week when I talk about my rug selections. But, please head on over to these other talented designers blogs to see what they are up to for week 2 of the One Room Challenge.
Albie Knows| ,At Home with Savvy | ,Beth Diana Smith | ,Eclectic Twist| ,Erika Ward Interiors,From House to Home| ,G. Lebron Interiors | ,Goldalamode | ,Home Made by Carmona| ,Impeccable Nest ,Jeweled Interiors| ,Joyful Designs Studio| ,Joy Street Design | ,Our Fifth House| ,Peony & Honey,Pinch Plate Party | ,Rebecca Propes | ,Reem's Design | ,Saudah Saleem Interiors | ,Whitney J Decor