Do you have to gasp for air every time you are cooking and cannot find that lemon pepper? Or, do you hate looking for a sponge under the kitchen sink? Well, I have been moving along with my determination to get organized this January. The next area I really needed to tackle was my kitchen. Two areas that gave me complete anxiety were my spice and under the sink cabinets. I set out to tackle that spice tornado first. Every time I cook, I find myself fumbling the spices and trying to get to the back of the twilight zone of spices to reach the cumin or the paprika. Enough was enough. Let's take a look at how this space looked first. You can see why it was nearly impossible to find that container of sumac!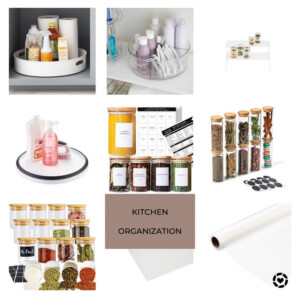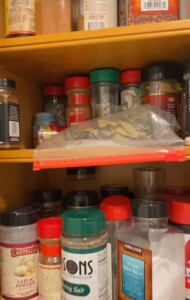 I knew there had to be an easier way. I never liked the ready made spice jars that came with spices because I knew I had big quantities of some items, while others I didn't need that much. So, I hopped on Amazon and I couldn't believe how many options they have nowadays. In addition to function I wanted something stylish (of course). So, I found some clear glass jars with bamboo lids and I was sold. I immediately put them in my cart. I even found ready made labels that are chic, simple, and modern…in the cart they went too.
Here are the items I used.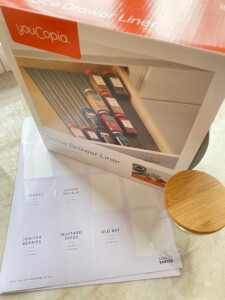 I had an empty drawer sitting next to my range and I knew these should be in the drawer! So, I anxiously awaited my Amazon delivery and got busy….then, BOOM.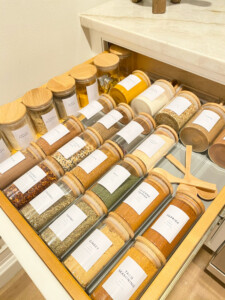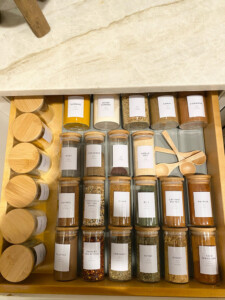 I have never been more excited about spices in my life!!! What the what? Where have I been! Seriously, I highly recommend this little activity. It will change your life. Below are all the items I bought from Amazon and the container store.
Look at everything that I will be tossing…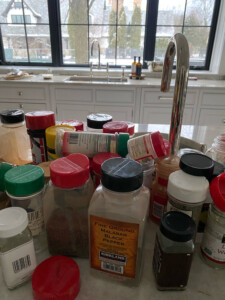 Ahhhh, I feel so much better now! Now I can find everything and if I really wanted to go the extra mile, I can alphabetize these too, or that would be a fun activity for my kids!
The next spot that seriously gave me anxiety was under the kitchen sink! Whenever I would need a sponge, or some cleaning supplies, I found my hands lost in another dark hole! Well, it was time to tackle this once and for all. I went to the Container Store to get some ideas. I did not want to spend too much, so I really thought about what I needed. I thought it would be so helpful to have something like a lazy-susan to have my cleaning supplies on so they don't get lost in the back of the cabinet. Next, I wanted to elevate one portion of under the cabinet so that I can double up on storage space. Then, I also wanted to line the bottom of the cabinet so that if a solutions spills, it doesn't ruin the wood. It also serves as a very clean looking bottom and it is easily wipable. Let's take a look…..
BEFORE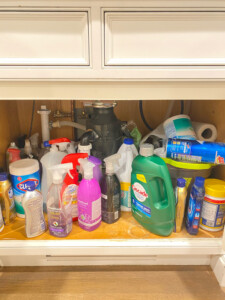 AFTER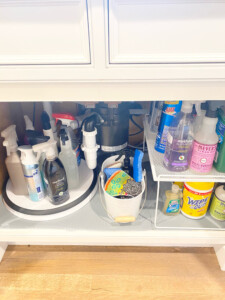 This may not look like a huge change, but believe me, it has made my life a whole lot easier! Little changes like this can make a big difference in your life. Trust me, now I love using my spices. I hope this inspires you to clean/organize just one drawer or cabinet in your home!