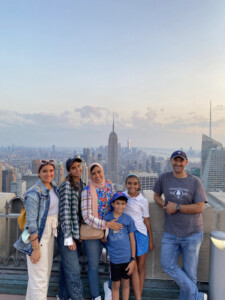 It's late summer and we have no idea where to travel. We knew we want to get away, but we have a pool at home and going from a warm climate to another warm climate, just didn't make sense, so we knew we didn't want a swimming/resort type of vacation. We wanted an adventure. For the longest time my husband and I talked about visiting New York City, so we figured, what the heck, let's do it. Our 4 kids are old enough (20, 15, 11, 9) to walk quite a bit without complaining, so we figured they'd be ready. Since my husband is a Marriott rewards member, we decided to stay at the Marriott Marquis Times Square (great hotel, but I wouldn't stay in Times Square again). More on this later. My husband and I knew that after 4 days in NYC, the younger kids would probably be pooped, so we decided to book 3 nights in Long Island just outside the Hamptons.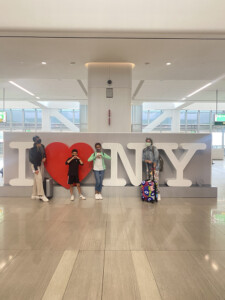 Right off the bat, as soon as we walked the streets NYC felt different than Chicago. Chicago feels very segregated to me, and NYC felt like a melting pot. Everywhere we went I would look up homes on Zillow and find that there were multi-million dollar condos right next to $600k apts. On the streets you see people from so many different ethnic backgrounds and I found this to be extremely heart warming. It did not feel unsafe at all. The police presence in NYC is quite evident. And if you are a New Yorker, you might think I am misinfomed, but this is how I felt as an visitor. It truly is a melting-pot in every sense. Also, these are my opinions about the places we visited. We only had four days in NYC, so we tried to make the most of it. Next time, we would like to do more, and definitely visit Broadway, which was closed due to Covid.
Itinerary
First day:
-Arrival at hotel.
Hudson Yards
We unpacked and started our walking journey to Hudson Yards. What seemed like a simple task turned into a whole lot of walking. Hudson Yards has a great mall. It has lots of upper end shops and a great food scene. It also houses Warner Media (CNN News), which my husband was excited to see.
The Vessel
Just outside Hudson Yards is the Vessel. This is a huge structure made of hundreds of metal stairs, which we reluctantly climbed to the very top. If you have a weak stomach and look down, you can get queasy, which happened to myself and my 15 yr old. It was a cool experience. I would say this is a one and done type of thing. Once you climb it once, you probably won't want to again. I recently found out that this structure might be permanently closed. You can find out why if you google it.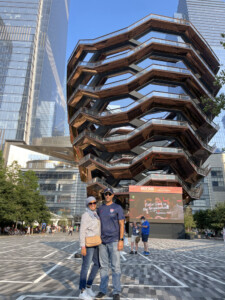 The Edge
Just outside Hudson Yards, is the Edge. This is a new building which has an outdoor platform perched at least 80 stories up with spectacular views. Since we knew we would visit the Top of the Rock, we decided to skip this. But, we loved seeing this new skyscraper from outside. It is breathtaking!
Times Square at Night (Not recommended)
By then, we were exhausted from all the walking on a few hrs of sleep and decided to head back to the hotel and order in. We ordered some awesome New York pizza and watched the Olympics and collapsed. I wish there were more quick eats in Times Square, but we could not find much to eat around the hotel. On our way to the hotel, we inevitably had to walk through Times Square at night, which was extremely crowded. Call me traditional, but some of the characters in Times Square were not of the family friendly type. I had to cover my younger kids eyes and we swiftly took them up to the hotel. LOL. My 15 yr old said that it wreaked of weed and she was correct. I am sure some would argue that exposing your kids to some of these things can be good for them, but I was not that excited about that. So, Times Square is just not my cup of tea. Also, if you decide to go, go during the day. It is less crowded and the fake Mickeys won't chase you down. We wanted to just walk around and enjoy the lights, but there were too many people trying to push their sales in that area. It was actually kind of cool seeing where Good Morning America is taped, but that's about it for me. We took the kids to the M&Ms store and they enjoyed that as well.
I'd love to go back to this area once Broadway is opened up. I would spend only 3 nights in NYC and hit up some Broadway shows. This is the only reason I would ever go back to Times Square.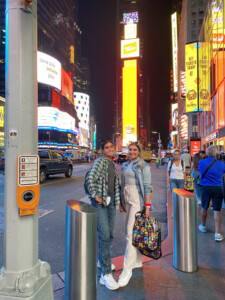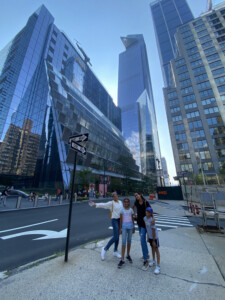 The Subway
The next day we decided to be smarter and use the subway. We are a family of 6, so finding an Uber that would take us proved to be challenging. Subway tickets are $2.75 per person, so my husband downloaded the App and would pay as we enter. It ended up being roughly $9 per day per person. If you stay a week in NYC and use the subway everyday it would make sense to get the 7 day ride pass for $35. Google maps did a great job navigating for us. At first, we were afraid to take the Subway. But, we've been in Paris and you need to take the Subway there to get around as well. It felt very safe and I feel like taking the kids on the subway showed them how people live. I was so happy to take them outside our comfortable bubble and teach them skills that they never would have otherwise. I love giving my kids experiences that are not our norm. I made my older kids hold the maps in their hands and had them navigate us.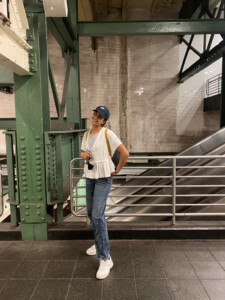 Chelsea Market- A must visit
We visited Chelsea Market which is an indoor mostly food and quick dine market. We loved Chelsea Market so much we visited the next day as well. It is also a great spot for a clean restroom break. It is so cool. It is an old building transformed into the coolest indoor market ever. This is another thing I love about NY. They have taken such great care in preserving a lot of the old buildings and turning them into something fascinating.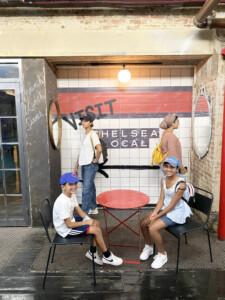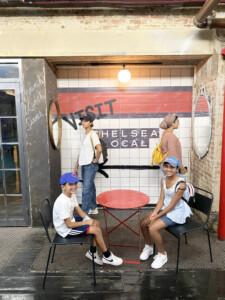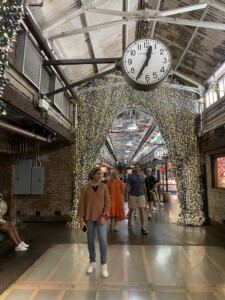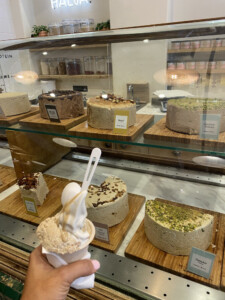 The Friends Building
After we grabbed lunch at Chelsea yards we hopped back on the Subway and searched for the "Friends Building". We found it! It was so cool seeing the actual building the show was based on. My older two were so excited to see this! This was super easy to find, you just navigate to the address which is all over the internet.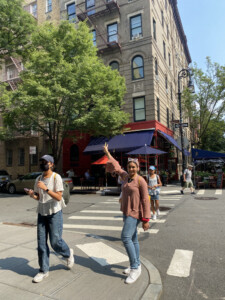 Washington Square
We continued our self-inflicted walking tour and headed to Washington Park. My older two wanted to go because NYU is right there and we walked the campus a bit and took a long break on the benches and people watched. The Arch in the park is so similar to the Arch de Triomphe in Paris, so that was cool to see since we've been to Paris.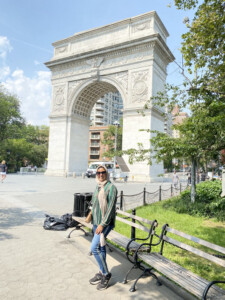 Btw, NYC has bags and bags of garbage bags. I've never seen this in Chicago. We've been to Egypt several times and that is common there as well. So, I get it…it's a big city.
Ground Zero
You exit the subway stop at Ground Zero and it is so cool. It seemed like a giant train station (maybe an Amtrack station). It is beautiful. Then you take the escalator up to Ground Zero. We made it just in time before it closed at 5:00, so we missed the museum, but the Memorial is just mind boggling. Two giant empty holes where the buildings once stood. NYC did such an amazing job with this memorial where they have the names of the deceased engraved on the platforms. It made me cry and gave me so many goosebumps. Ughh.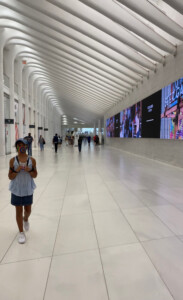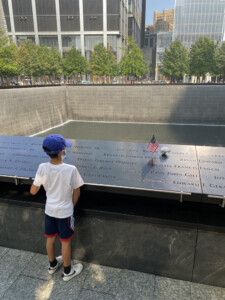 We stopped for dinner in a nearby restaurant and headed to the hotel.
Day 3
Highline
The Highline is an old train track that has been transformed into a raised garden walkway. It is beautiful, clean and I saw a celebrity (a Peloton instructor) walking it. This is also a must do when visiting NYC. Another perk of the Highline is it is free!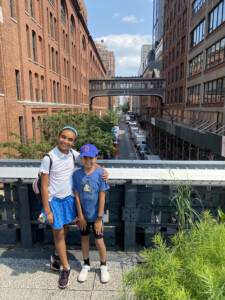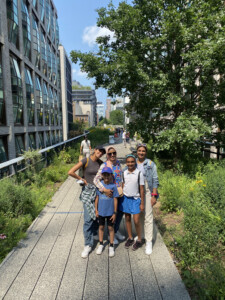 We did so much on day 2, that we decided to do less on Day 3. So, we headed back to Chelsea Market again to eat since we loved it so much and it is right next to the Highline. We loved this neighborhood and said to ourselves that we might even stay there the next time we visit.
Top of the Rock
We bought tickets for Top of the Rock which is located in Rockefeller Center early in the day and booked a 7:30 time, before sunset. We headed to Rockefeller Center right after dinner (lots of great restaurants in this area). We wanted to see the city from above at daytime and at nights when the lights turn on. It was magical. Seeing the city light up had to be the highlight of our trip.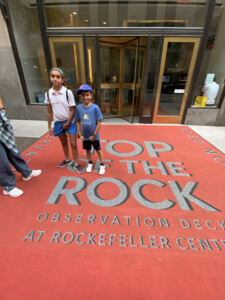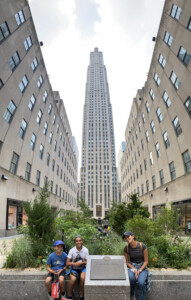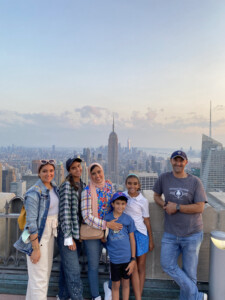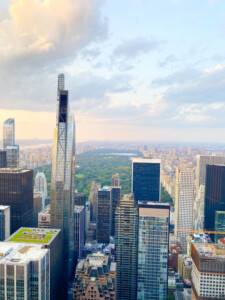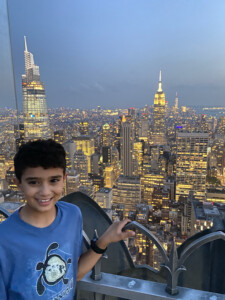 We grabbed dinner afterwards and headed to the hotel. We used Yelp a lot to find casual dinners and Open Table for a "fancier" dinner option. You cannot go hungry in NY and it was super easy finding a slice of pizza or coffee. Once again, we swiftly walked through Times Square to get to the Marriott and we wish we had stayed elsewhere.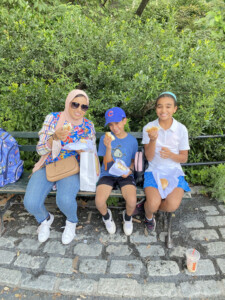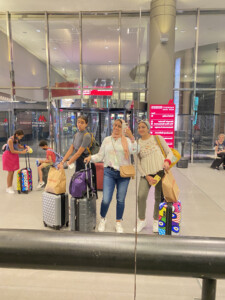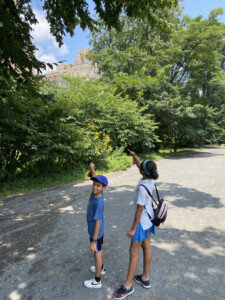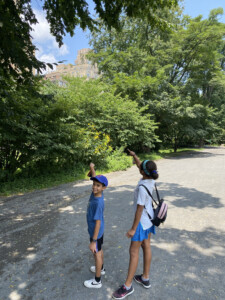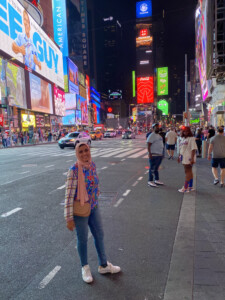 Yippeee…check out time. Before we left to Long Island, we made two more final stops in NYC. On the fourth day, my awesome husband commuted to LaGuardia to pick up a rental car for us so we can drive to Long Island where we spent 3 days of bliss. We are so happy we did this. It was a last minute decision, but so worth it! We stayed just outside South Hampton for 3 nights. Needless to say I fell in love with the shops, boutiques, homes, and most of all the clean beaches. But, first, two more important stops.
Central Park
We bought bagels and walked to Central Park and ate them there. Central Park has a great surrounding neighborhood with gorgeous brownstones. I would definitely add this to your itinerary. We didn't have much time so we didnt rent bikes and bike around the entire park. My kids were excited to see the "Jessie" building. They watch this show on Disney Plus all the time, so it was cute seeing them this excited.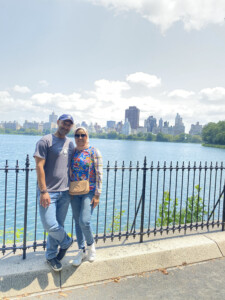 The MET
Before leaving NYC, we knew we should spend half the day at the MET. Since we had a car, we parked in the parking garage and that avoided the long line to get into the Metropolitan Museum. This is a great museum and if you have been to the Louvre in Paris, I would say it is a mini version of it. VanGoh, Monet, Egyptian and Roman treasures, and so much more to see here. We really enjoyed it. There is something for everyone in this museum. Plus, we had to see where the MET gala takes place every year.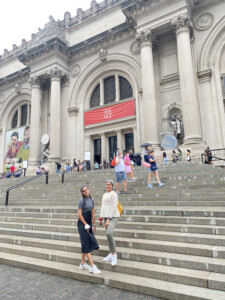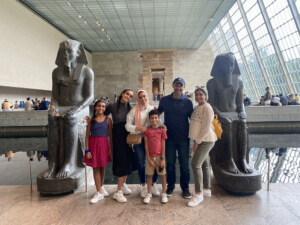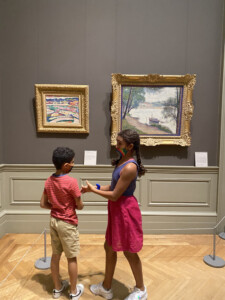 My kids loved crossing all the bridges leading to Long Island, especially the Brooklyn Bridge. We wanted to walk the Brooklyn Bridge, but we ran out of time.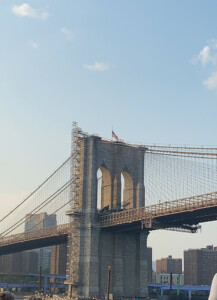 The drive to Long Island from Manhattan took about an hour and a half. We stayed just outside South Hampton and drove to the Hamptons everyday and it was a very easy drive. We wanted to see this entire area, so we drove a lot and hit up a bunch of towns.
Montauk
The next day we drove to the Montauk Lighthouse the next day and it was magical. My kids (old and young) started a beach pebble collection. It was so nice to see them unplug from their phones and enjoy the simpler things in life. Montauk has a great little town with shops and eateries. We wish we had stayed there (maybe next time). It is a cute little beachtown with very extravagant homes. Hamptons Coffee Company is a must stop too!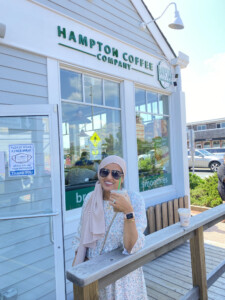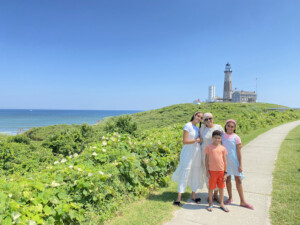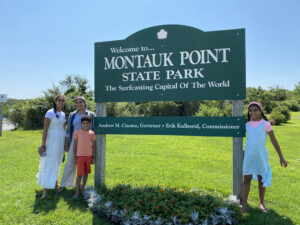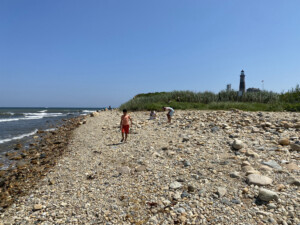 South Hampton
We also visited this town to shop and eat lunch. We grabbed lunch twice at Broderick's Chowder house. We were so happy to find that they had clam chowder without bacon and it was delish. I ordered Lobster tacos and they had so much good food on the menu. We loved the beach there and visited it all 3 days. We did not swim because the water was freezing. It was just nice to walk along the beach and gather rocks and drool over the homes. I highly recommend visiting the beaches in the Hamptons.
The Tates Bake shop is a must. We grabbed coffee and cookies (of course) from here.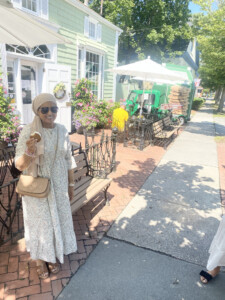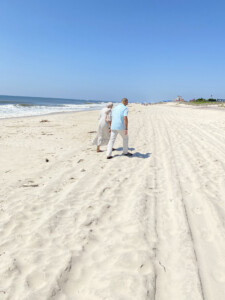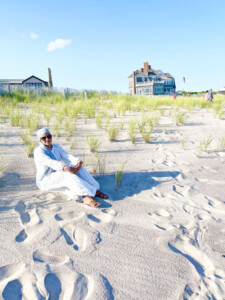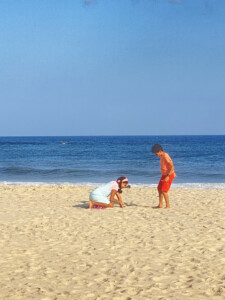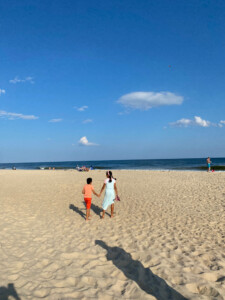 Amagansett
Amagansett was also a great town with so many cute boutiques and shops. All of these towns are right along the main stretch of hwy and you can knock them all out in one or two days if you are just going to shop.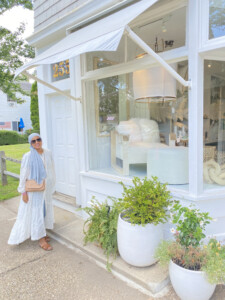 East Hampton
East Hampton had a cute little town where we stopped for some shopping and ice-cream.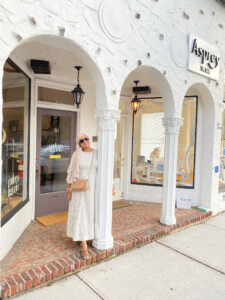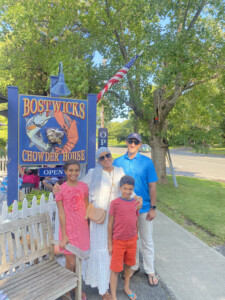 We were so happy that we split our vacation into two sections…NYC and Long Island. It was such a treat to end in the Hamptons. But, wait! We had to drive back to NYC to catch our later 6pm flight on the last day. So, after we checked out of Long Island we drove back to NYC for one more very important stop.
Lady Liberty
There are so many ways to view Lady Liberty, but you cannot see it from Manhattan. We took a quick tour of just Ellis Island (without getting off the boat). We did not have time for the more lengthy tour, so we decided to only view it from the boat. We found the tickets on TripAdvisor. We thought it was just perfect. On the next trip to NYC, I would take the ferry to Governors Island and view it from there because I have heard that Governors Island is a fun spot. Alas, this was the perfect way to end our first trip to NYC!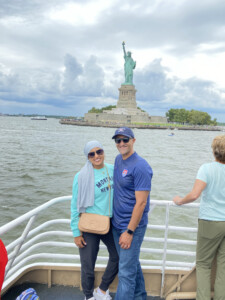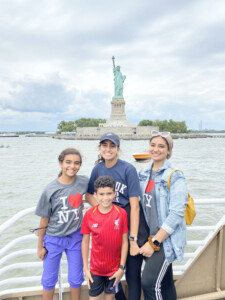 This was the most perfect ending to our trip. Next time- Broadway! I hope you enjoyed this article!