I have never been more excited about a project. This small project is something that I have always wanted to do. For 5 years now I have dreamt of having a gorgeous brick wall inspired by the Costwolds cottage homes that we visited 3 years ago. It was village that basically has stopped in time and is uninterrupted by the modern architecture of today. I felt like I was in a fairy tail when we visited and since my home is on the older side (100 years old), it fits this aesthetic perfectly.
Here is the before…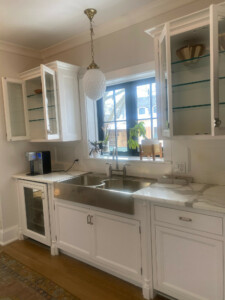 I wanted open shelving backed by a gorgeous wall of Moroccan brick tile. When I first discovered this Zellige tile from Riad Tile, I wasn't sure if I was going to put it around my main range wall or here in the butler's pantry. Since we did not know if we will be doing further updates in the kitchen, I decided to go with the Butler's pantry. This gorgeous handmade clay tile has special characteristics that make each tile unique and individual. It is truly one of a kind. I received the 2×6 tile in the color Snow.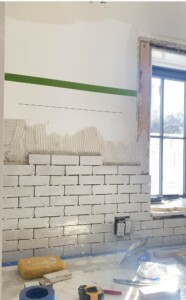 The first thing my contractor did was remove the upper cabinetry. Let's take a look at the before… At first I was not sure if I was going to remove the upper cabinets, but as soon as I received this tile from Riad tile, I knew it deserved it's own uninterrupted wall of tile from counter to ceiling. It deserves it. I was going for a European look and the cabinets would continue to bother me if I kept them in place, so down they came!
When I first thought of redoing this area, the first thing I wanted to toss this weird sink. I did not know what this thing was made of when we first moved in. It always looked dirty so I started doing some research online and the middle line dividing the two sinks was quite unique. It was a squiggly line. I researched and researched online until I found the sink. Lo and behold, I found out it was a real silver sink retailing at about $5-6K. Because our home is older it is definitely a vintage piece and definitely a keeper. I thank God that I did not make a rash decision and toss this beauty to the curb.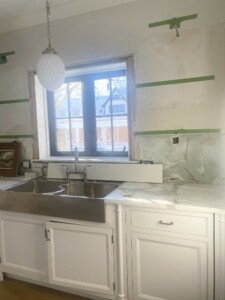 This sink now makes sense with the addition of the tile. The whole area looks like it was meant to be, like it is from a home in the Cotswolds and that is the feel I wanted this space to have-a European vintage feel. My vision came to life, as soon as the tile was grouted.
As my contractor was laying the tile, I started to become nervous, but I forgot that tile looks so different without grout. You must wait for the grout, you must! As the tile went up, huge sighs of relief started to really help my anxiety. I knew it was going to look amazing and my vision was being realized.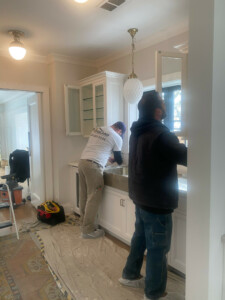 I told my contractor that I did not want any trim around the window. He removed it. He then asked me if I wanted the edges to be mitered or painted a similar color to the tile. I am so glad that I told him to miter the edges. This is a painstaking process that must be done by a professional or somebody very skilled in tiling.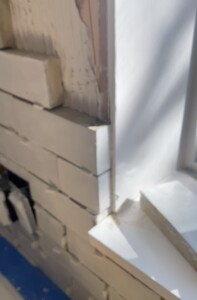 After the wall of tile was completed, they were ready to grout the tile the next day. Then, he came back one week later to install the white oak shelves. I told him the thickness that I wanted as did I the length.
He brought the shelving and put a coat of poly on them on-site. Then he hung them into the studs. As the first one went up, I sighed a huge sigh of relief. Nailed it. This is exactly what I wanted. I was so happy I stuck with a light white oak. What I love about the open shelving versus the glass cabinetry is that they serve as function and beauty. I can place our white dishes on one side and I can have a coffee station on the other side within easy reach and most importantly, I can see that gorgeous Riad tile!!!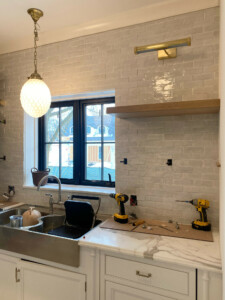 I chose 2 simple picture lights to hang above each set of shelves on each side. These are the Ridgewood picture lights from Hudson Valley Lighting #sponsored. I chose the brass and I love the way they look against the zellige tile wall. I also, I planned to put art on the upper shelf, so it will serve as a great spotlight!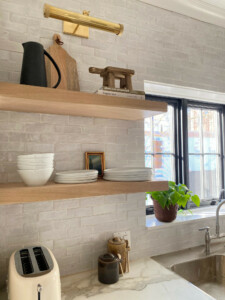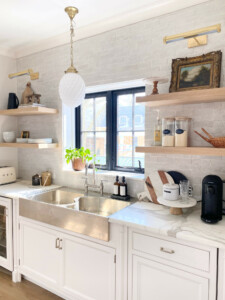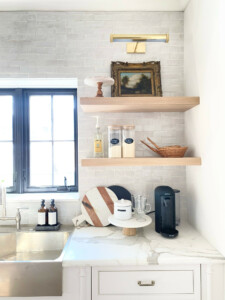 I hope this inspires you to remove some upper cabinetry and get creative. Do not be afraid to think outside the box/cabinet (no pun intended). I know I don't live in the Cotswolds, but at least I can pretend to everyday as I use this space. It seriously takes me to that world instantly. Happy renovating!