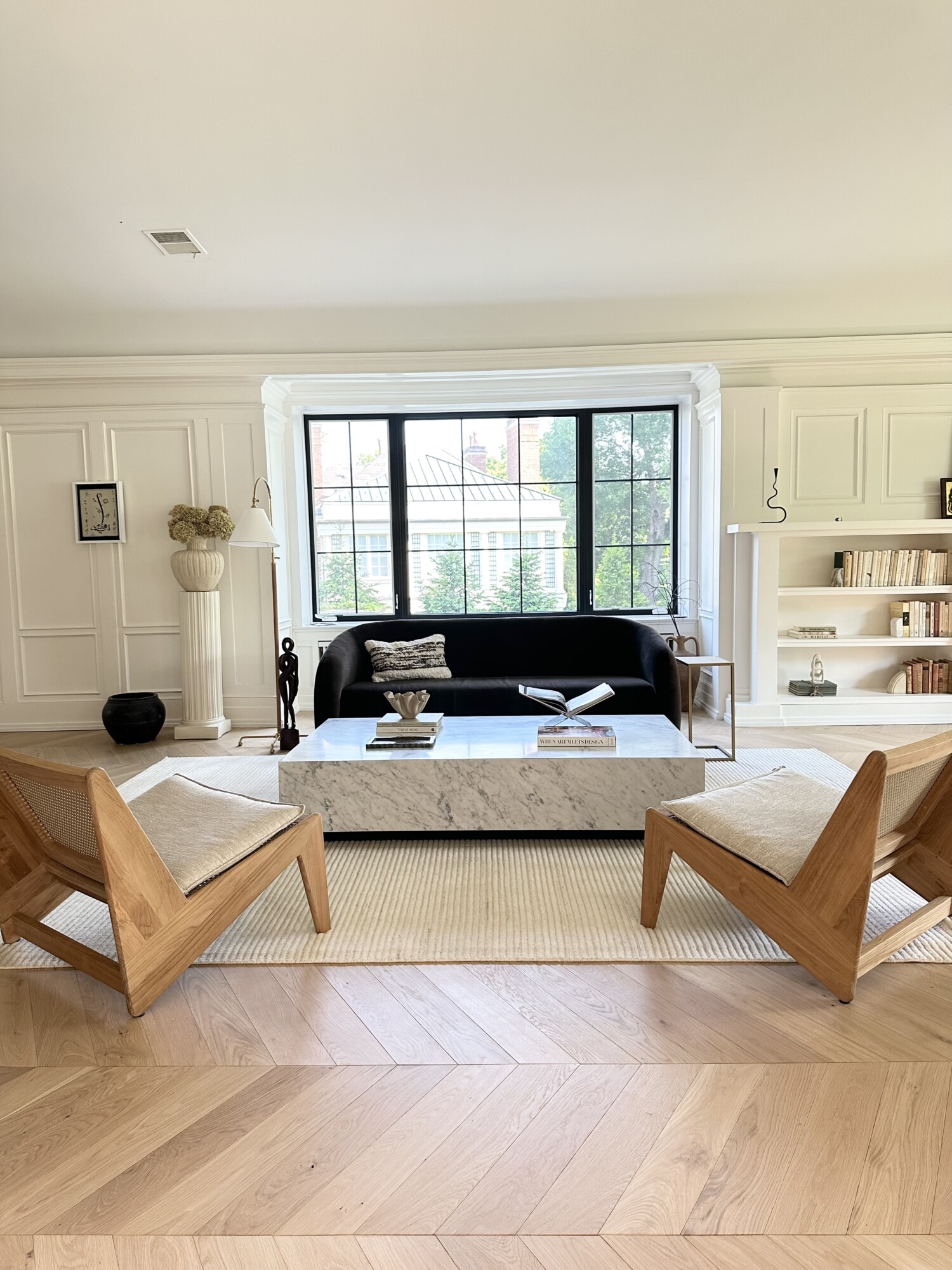 Since moving into this home almost 4 years ago, I knew that our vast front/living room off the foyer was a space that we really would not use since we have a sunroom, family room, and a smaller gathering room. Having a fourth room to lounge in seems like somewhat of an over-over-indulgence. My husband spends a lot of time working at home and he has since claimed the office as his own, which leaves me with my laptop hopping from kitchen, to sunroom, to the dining room to find a quiet workspace—especially when the kids are home. The way the space used to be laid out really bothered me. The furniture was left as part of the sale of the house, and it just did not flow properly for me.
My Vision
I knew I would have to change this space around, but it was low on the priority list. A few months ago, I finally had an epiphany….why not make this space"Reem's Design Studio," and a lounging area for when we have guests. I had been working with a few clients at Arhaus and have always wanted to incorporate their high-end, consciously made furnishings into my home. So, when Arhaus reached out to me to partner, I was so excited, to say the least. I have always dreamed of a Parisian apartment-style lounge space that is modern with a Parisian flair. AD Ever since getting chevron floors in my home, I knew this is the direction I wanted to take.
It was an "Aha-moment" for me. The area between the bookshelf and fireplace naturally gave me an inclination that placing a desk right in between would be the most perfect set up for an office space. And keeping the rest of the space "lounge-y", was the perfect marriage between work and entertainment. So, when I am home all day working, I finally have a space to work in that inspires me and keeps me out of the pantry looking for a snack. Also, I can bring clients into my studio to have a talk and consult them about their spaces. When we have guests, they can overflow into this space and it is the most perfect spot for just that. It is my at-home design studio. Now, I have a place to put the samples that have been floating around the house. I knew I wanted contrasting earth tones and organic textures, so I focused on only those pieces. Let's talk about the new furnishings…
I started my design plan with the Finnley desk. Since the desk is the most integral part of the space, I wanted to build off of that. I knew I wanted a marble top, and as soon as I saw the Finnley desk, I knew this was the one. The gorgeous hand-finished pine from Finland complemented with the hand-reeded oak is finished off  by a luxurious marble top making this the most gorgeous combo for a chic, sophisticated, and Parisian lounge area. The reeded oak detailing leads ones eyes to the rest of the lines in the room, the vintage radiators covers, the vintage pedestal that holds a vase atop of it, and the subtle stripes in the rug as well. I love when a room has commonality. This makes it more minimal, more modern, and less fussy. I topped the desk with the Axel task lamp made of solid brass with an integrated LED light to help me get through those late night blog posts. Notice how the desk takes a subtle hint from that original (1925) coved ceiling to curve.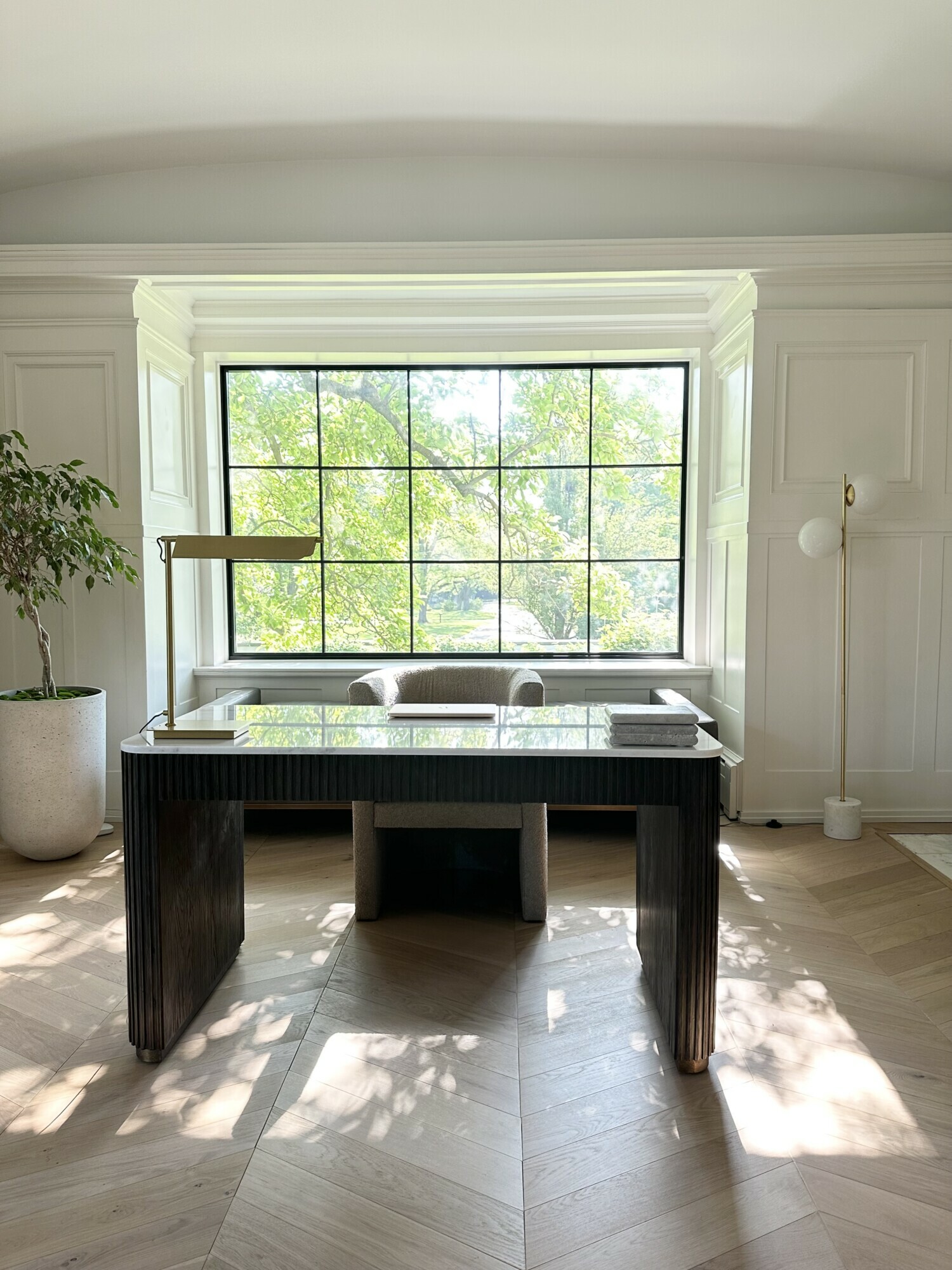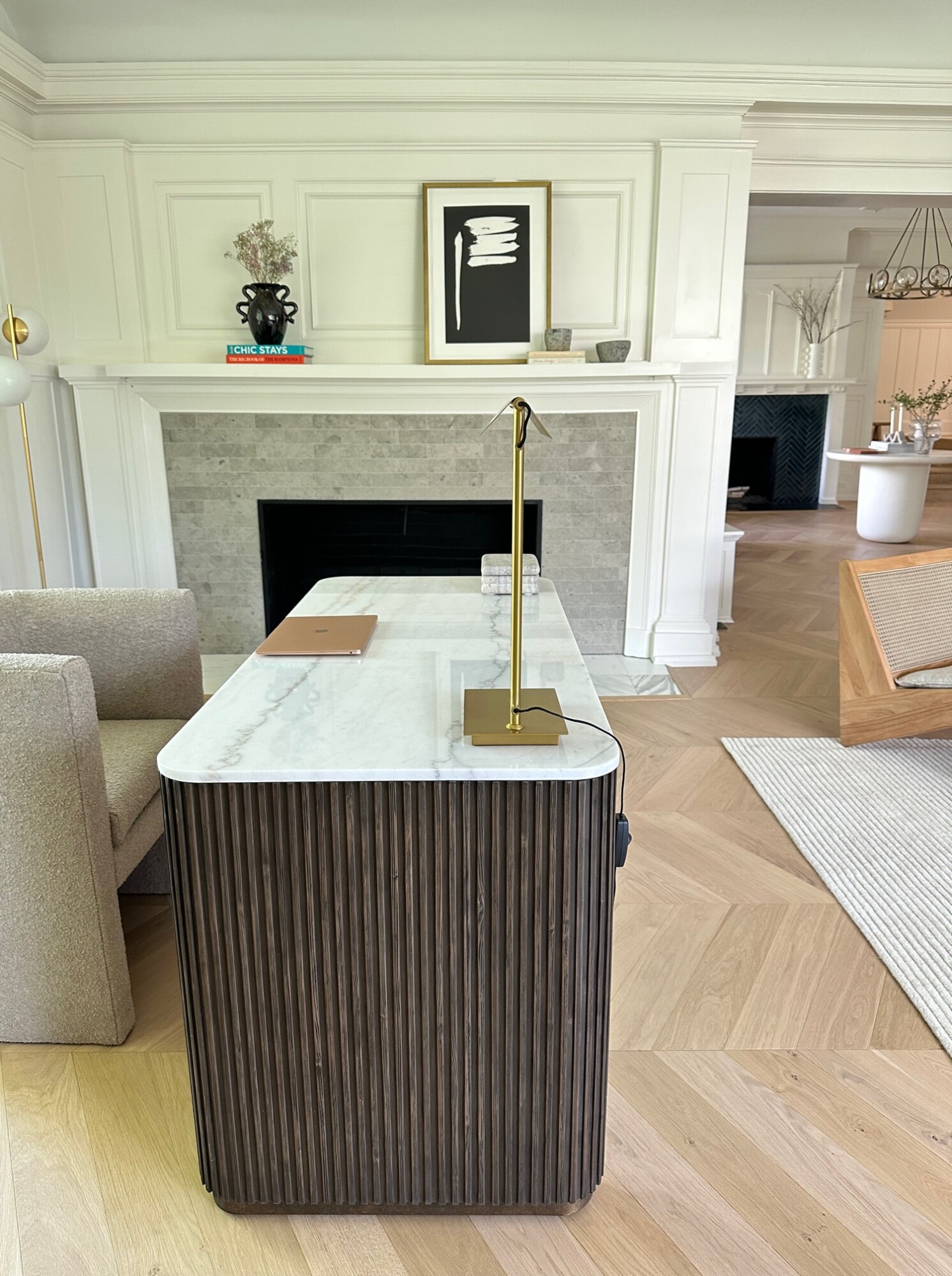 Once I decided on the Finnley desk in Mocha, I knew I wanted something to complement this desk. I knew I wanted a comfortable spot for clients/guests so that this space can serve as an extended lounge area. The Fresno sofa in Vance Cocoa really caught my eye. It's clean lines, soft curves make this sofa a modern addition to this new space. I love that this piece was hand upholstered in North Carolina. The gorgeous, luscious cocoa velvet really anchored my otherwise, neutral space. The gentle curves of the sofa mimic the subtle curve in our original 1925 coved ceilings in this space.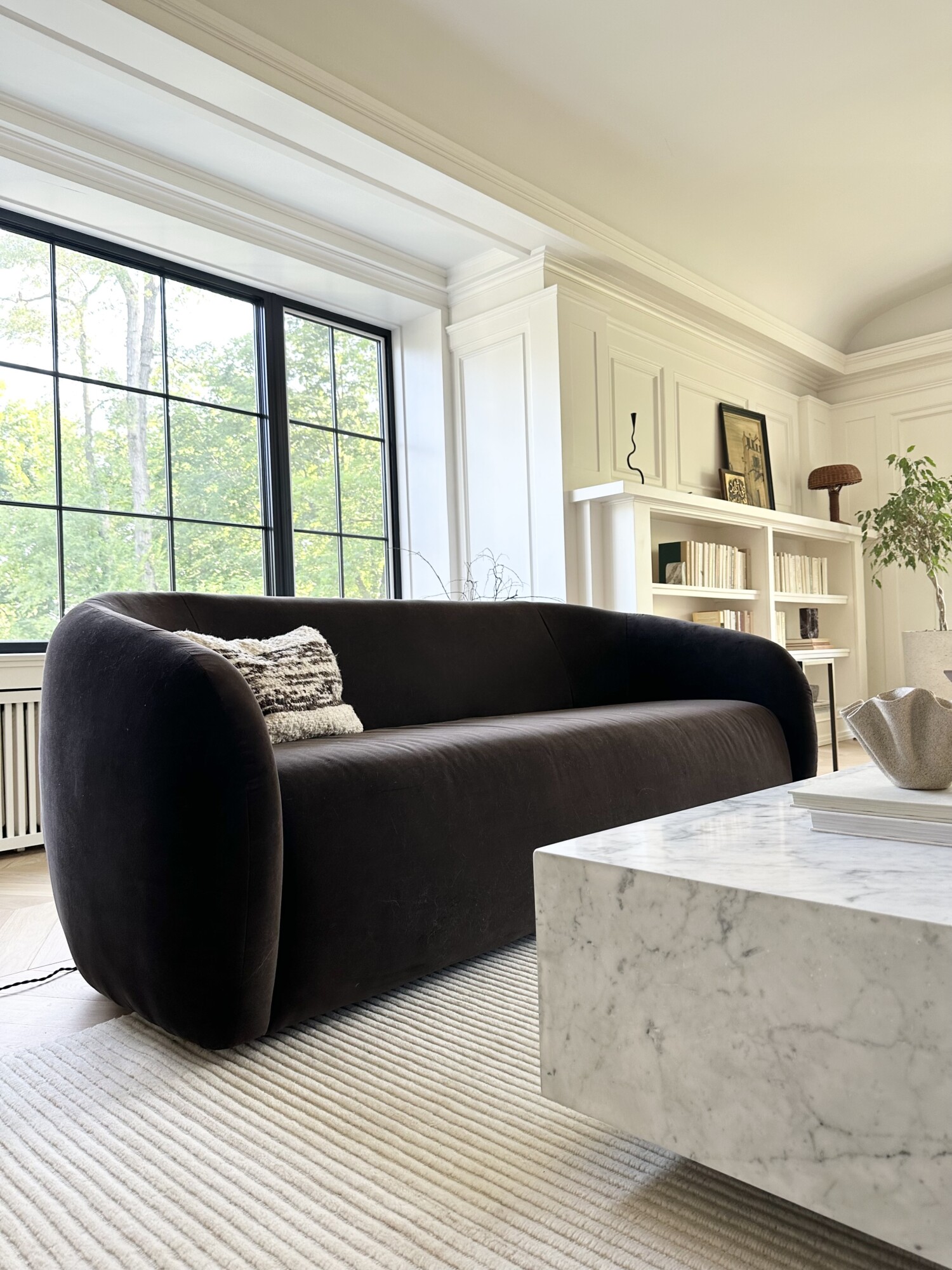 I just love the modern silhouette of this sofa and it is the most perfect piece for this space. It gave this room the pied-'a-terre look that I was after. To top off the look of the sofa, I added the Aviana coffee table. It's artisan-crafted marble carefully enhances the gray and white marble veining that is subtle, yet, striking throughout this solid table.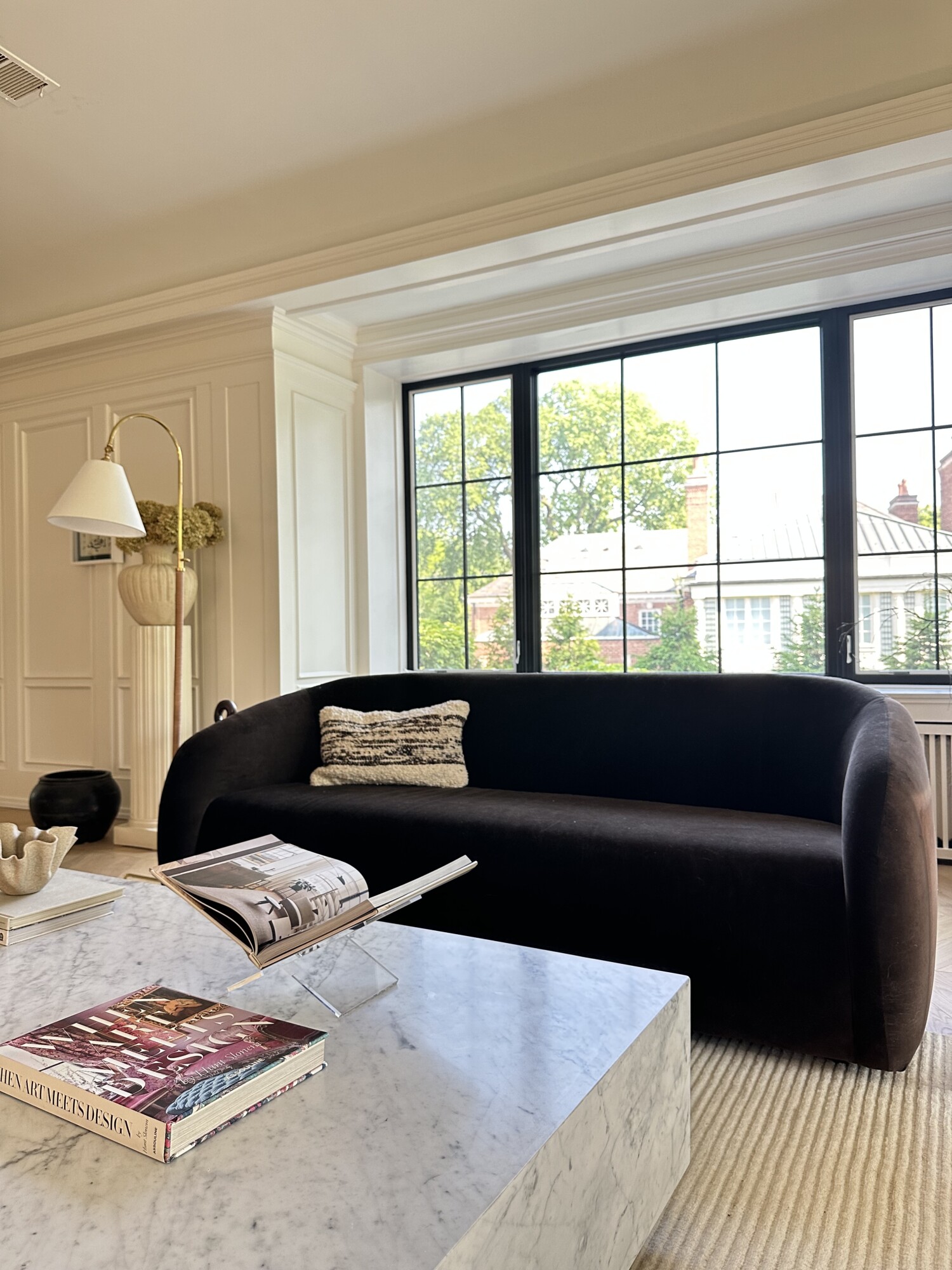 The Aviana coffee table anchors the space in the most sophisticated way, making it the perfect spot to rest tea for my clients and spread out paint and window treatment samples. The generous size also gives me ample space to spread out large floorplans and drafting materials. I have gotten so many compliments on the gorgeous veining throughout the table. I wanted to give my guests a bit more space in case they bring children, or sometimes their parents for more opinions on their spaces. So, I added two teak Roos outdoor chairs. The striking sides of the chairs stopped me in my tracks and the gorgeous hand woven resin back and seat gave me the touch of organic texture that I was craving in this space.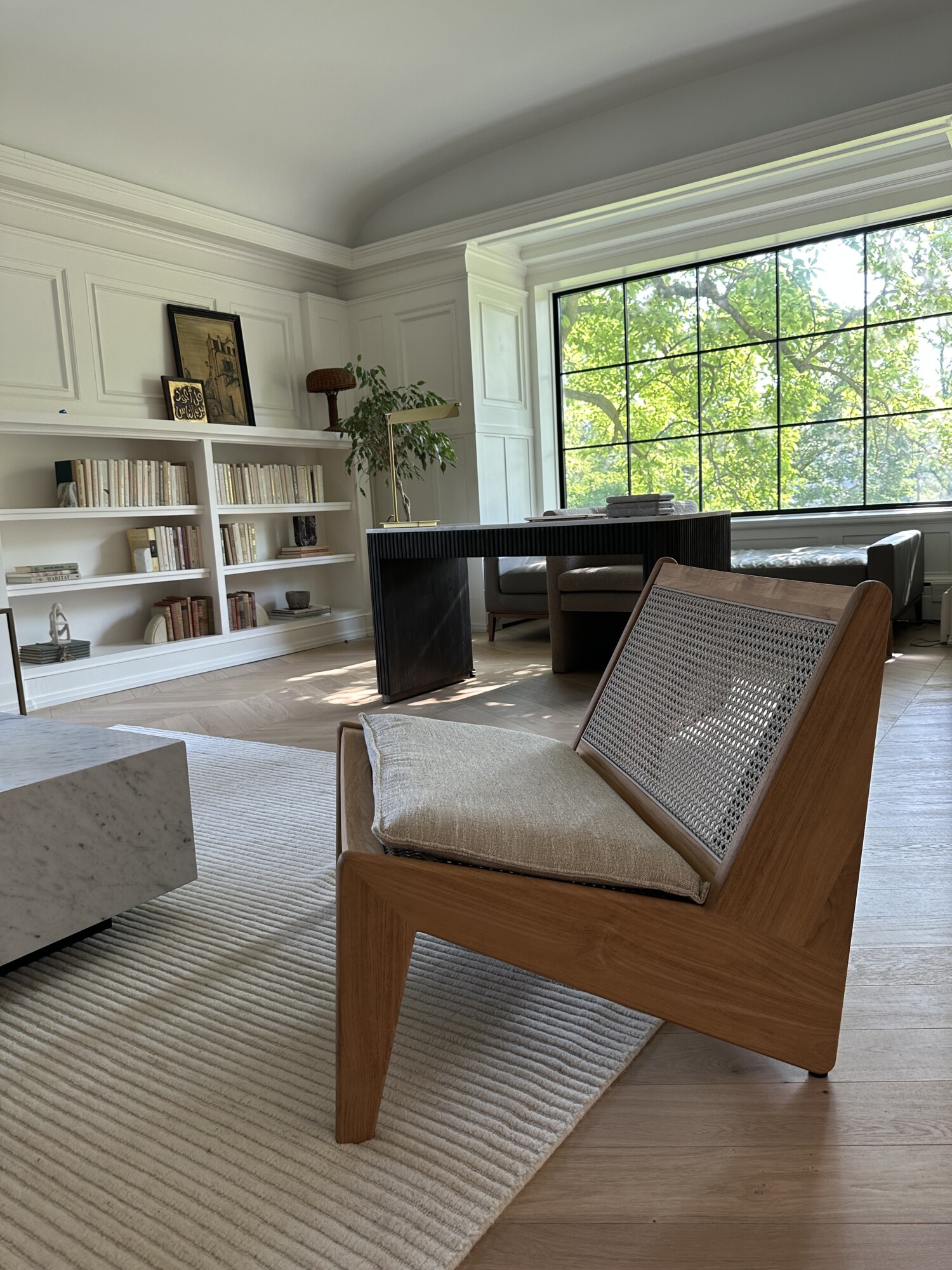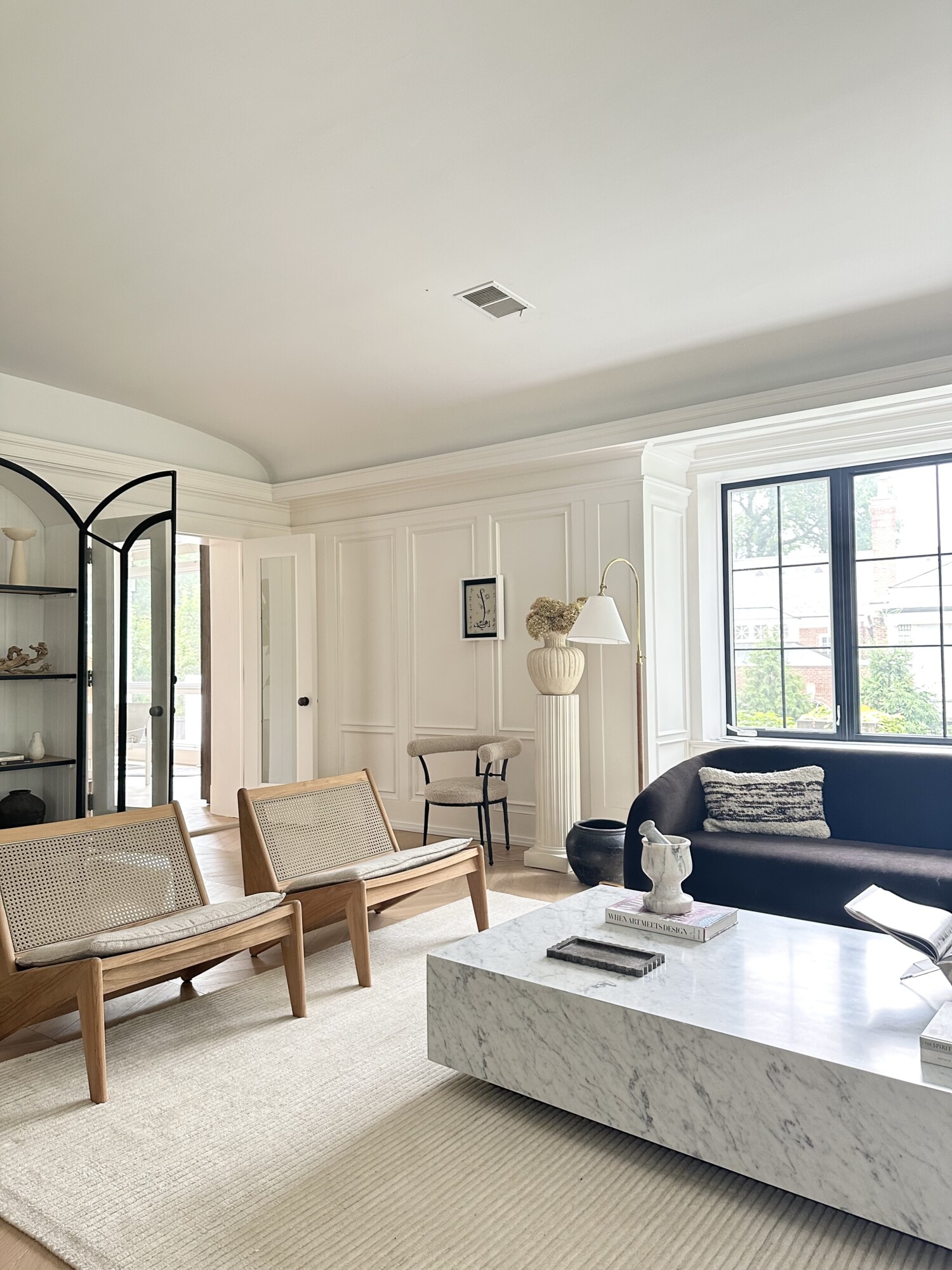 I hope this inspires you to go ahead and make that dream space a reality. Make sure to check out Arhaus for all their gorgeous, high-end quality furnishings. And don't forget to subscribe to my newsletter.