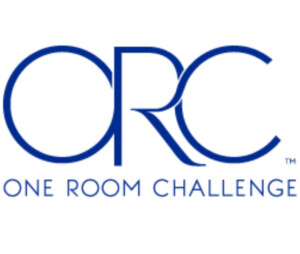 I have made so much progress in my One Room Challenge this week. If you missed Week 1 and Week 2, and Week 3 make sure to take a look. Last week I introduced you to the amazing paint color I landed on from Kelly-Moore Paints, "harrow's gate" and I introduced my awesome media cabinet to you. Once again, the brands that I'll be working with and my moodboard are below. n
My moodboard for the space: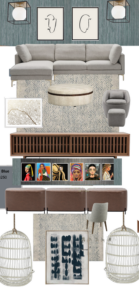 One Room Challenge Brands
Since the wallpaper from Tempaper turned out so stinkin' awesome, I decided to pull out some of those gorgeous gem-tones that are so prevalent in the chambray peel n' stick wallpaper for the paint, rug, the sofa, the pillows, etc. One of these areas that I think will really benefit from these blues is the floor! You might be thinking, please don't add a bright, blue rug to your otherwise neutral space. Do not worry, I found the most perfect rug from my favorite rug brand whom I have partnered with before, Loloi rugs! nnA family owned company, Loloi rugs, has a vast array of everything from affordable reprinted rugs to higher end luxurious wool rugs and vintage pieces. "For the past 25 years Loloi, Amir Loloi, the owner has traveled the Indian Countryside searching for the best craftspeople and weavers. In 2004, he formed Loloi rugs so that he can bring those artisans' work to the United States". -Loloi website nn"In India our rugs are still crafted the old world way. Every step of the process-whether it be the dipdyeing of the wool or the intricate task of weaving is done by hand, where proud artisans keep this time-honored tradition alive". What's more, Loloi partners with Goodweave and this is so important to me. This ensures that no child labor is used in the process of making these well crafted rugs.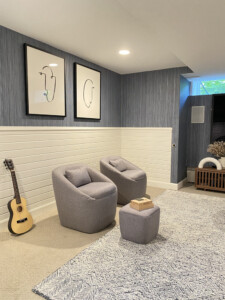 I think it is super important to buy your rugs from a company that has a conscience. And what is better than supporting a family-owned business? Loloi is my rug store of choice for all my rug needs. Now, let's take a look at the rug that I think will really lay a beautiful foundation for the rest of the space…
Introducing the Kopa Collection Blue rug by ED for Loloi rugs. This rug is 100% wool and is made by skilled artisans. It is a low pile wool pile rug that will last for a very long time. What I love about this particular rug from the Ellen Degeneres collection for Loloi is that it gives me that hint of blue without being overwhelmingly striking in your face. As you walk away from the rug, the blue starts to diminish creating this very distressed look which I absolutely love! Not only that, it is the most calming shade of blue.
My original inspiration for this space was a coastal Hamptons beach inspired space.
When we vacationed in New York this past August, we spent 3 days in the Hamptons. I visited a ton of small boutiques and home stores. A lot of the boutiques had this exact shiplap on the wall and so I really wanted this space to vibe in that direction, but with a modern edge and I think the wallpaper provides that. The rug gives me that calming blue that I loved in the waters of the the East Coast. The rug tones are almost like a mix of water and sand!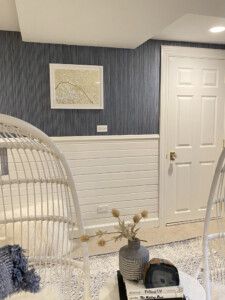 I will be adding three of these rugs to the space to break up the space and give each space purpose. I wanted all the rugs to be matching so the space feels more cohesive and clean!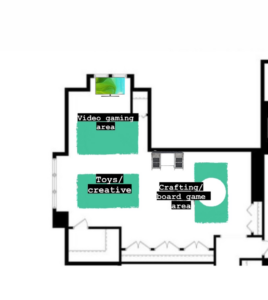 Stay tuned to the final reveal when I show you more angles and much more the space. Right now, I don't want to give away too much. I hope you are enjoying my One Room Challenge progress.
Make sure to come back next week where I will be talking about my Art choices for the space. But, please head on over to these other talented designers blogs to see what they are up to for week 3 of the One Room Challenge.
,Albie Knows| ,At Home with Savvy | ,Beth Diana Smith | ,Eclectic Twist| ,Erika Ward Interiors,From House to Home| ,G. Lebron Interiors | ,Goldalamode | ,Home Made by Carmona| ,Impeccable Nest ,Jeweled Interiors| ,Joyful Designs Studio| ,Joy Street Design | ,Our Fifth House| ,Peony & Honey,Pinch Plate Party | ,Rebecca Propes | ,Reem's Design | ,Saudah Saleem Interiors | ,Whitney J Decor
XO,
Reem