When I first set out to find some seating for my front porch, I knew I wanted something to withstand the harsh winters here in Chicago. Not only that, I wanted it to greet people upon walking up to the front door. I want them to be impressed and have it set the tone for the rest of my house. So, I decided to reach out to Serena & Lily** and they helped me get the Pacifica bench in driftwood.
**This blog post is sponsored by Serena & Lily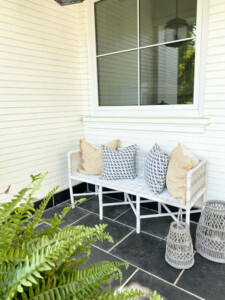 I knew the color would be timeless and stunning against my white brick. The Pacifica bench is made out of classic wicker with outdoor-friendly materials. According to Serena & Lily it is made out of an all-weather resin, expertly woven that lends to the look of woven rattan. The color tone is a sunbleached driftwood, which honestly reminds me of the cafes in Paris. As you know, my husband and I traveled to Paris several times and I am always looking for timeless pieces that remind me of Paris, yet have a coastal feel and Serena & Lily pieces are so well known for this! In addition, their quality just cannot be beat! I topped the Pacifica bench with a few of my favorite Serena & Lily throw pillows. I love that they also sell the cushion for this bench as well. That is something that is one my wish list.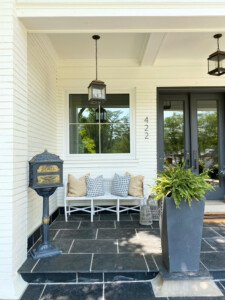 In addition to this Pacifica bench, I also added 3 outdoor Riviera swivel barstools to our grill area and they are stunningly beautiful and I could not believe how heavy and sturdy they are. Think Serena & Lily's signature French inspired bistro design in an outdoor stool…ummm, yes please. Once again, that touch of Paris is just everything to me. These are the highest quality resin and while there may be copycats out there, the quality on these from Serena & Lily are so evident. They do not tip over and have the same gorgeous driftwood tone that I love.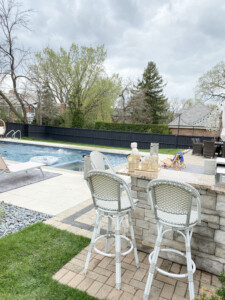 The powdercoated aluminum frame is to withstand our harsh winters here in Chicago, and our rainy Spring. The woven wicker repels water, resists mildew (I've had this on some outdoor furniture, trust me, not fun) and stand up to extreme heat (we have west side exposure in the back by our pool, so this is so important). I have some items that are not from Serena & Lily outside and they have been fading, and they look horrible. I cannot wait to have my entire backyard set up with Serena & Lily items!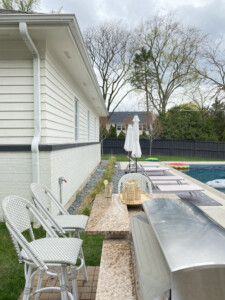 These stools are just so functional, as they are beautiful. I do not want to be switching out my outdoor pieces every year because they did not make it through the winter, so I know that the Serena & Lily quality will last me for years and years. And lastly, these cute Palisades chairs in natural have been so fun next to my pool. We move them around tirelessly and they add the perfect fun touch to our backyard pool oasis!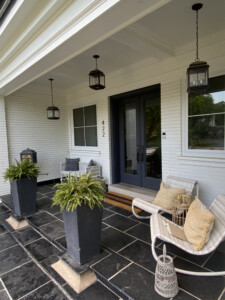 I hope this inspires you to freshen up your outdoor space!