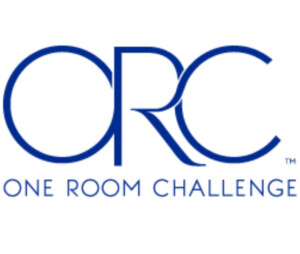 I am actually almost completely finished with the One Room Challenge , but you will have to wait a bit longer for the final reveal. I am waiting on a very exciting furniture delivery at the end of this week. If you missed Week 1 and Week 2, Week 3 , Week 4, and make sure to take a look. Last week I introduced you to the gorgeous rug I am using from Loloi and this week, I'd like to talk to you about one of my favorite art brands, Minted and a furniture brand I have discovered, Wovenbyrd.
Once again, my moodboard…and keep scrolling to see my moodboard come to life!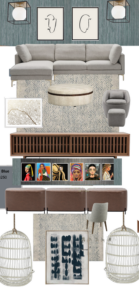 Wovenbyrd
I discovered Wovenbyrd recently while browsing Target's website for furniture. I was looking for clean, modern, high-quality pieces for my One Room Challenge. I chose the 32″ modern decorative bench with metal base in faux leather to create a window bench area. I also ordered 2 barrel chairs with storage seat and ottoman in gray linen.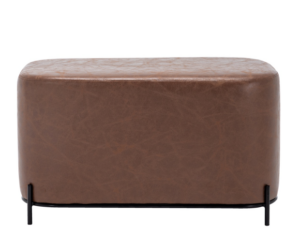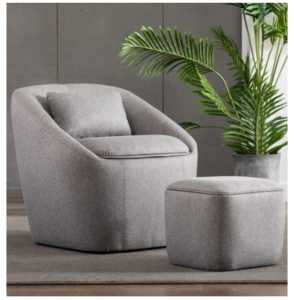 Minted
Minted is my go to for holiday cards, photo books, but also art. Minted has "unique designs, freshly sourced from a community of independent artists. The most luxurious paper and printing techniques are used."I love how they encourage independent artists. This is a huge factor for me when shopping at Minted.
Here are the Minted pieces I chose for my ORC…
Face Study
I just fell in love with how whimsical these two pieces are. There are 2 different versions of Face Study and I love them together. Chelsea Petaja is the artist behind Face Study. Simple, clean, modern, fun, and neutral is exactly what I was looking for!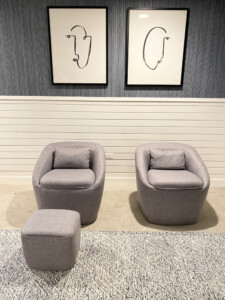 Domino Effect
This limited edition piece really spoke to me because I was looking for a more modern piece. According to Minted, the textures in this experimental, acrylic painting are added upon each other, which creates, the domino effect; one would not exist without the other. Each layer helps build the story to pull the viewer closer. Fine lines of graphite peek-through the paint, giving hints to the works beginning.
I chose a walnut frame for this piece and I had it printed on canvas which really makes this piece stand out! The walnut frame is the perfect icing on the cake.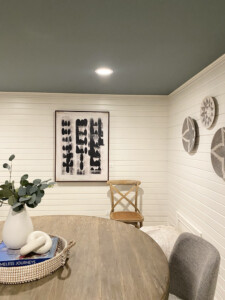 Here is the gorgeous "Domino Effect" and yes, that is correct, I painted the ceiling. In week 3, I talked about paint and here this is one more area I painted. I think along with the art, it really made this space more intimate and inviting. It also gave this gorgeous original shiplap a fresher look.
Gold Foil Maps
According to Minted, Celebrate a favorite place with a custom map print. Simply provide the address, we'll automatically show you a map to preview, select your area, and we'll create a custom art print for you. You'll receive a proof to approve. Available foil-pressed, letterpressed, or in standard printing in a variety of vibrant colors.
One of our favorite places on Earth that we took two of our children to is Paris! We would use the Paris map daily to find our way around and this is an excellent reminder of that trip. Making art more personal is a great way to showcase your favorite places and things. That is why I chose this ,gold foil map of Paris.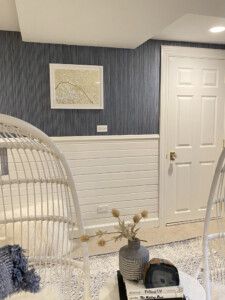 Make sure to come back next week where I will be talking about the furniture selection for the space. But, please head on over to these other talented designers blogs to see what they are up to for week 3 of the One Room Challenge.
,Albie Knows| ,At Home with Savvy | ,Beth Diana Smith | ,Eclectic Twist| ,Erika Ward Interiors,From House to Home| ,G. Lebron Interiors | ,Goldalamode | ,Home Made by Carmona| ,Impeccable Nest ,Jeweled Interiors| ,Joyful Designs Studio| ,Joy Street Design | ,Our Fifth House| ,Peony & Honey,Pinch Plate Party | ,Rebecca Propes | ,Reem's Design | ,Saudah Saleem Interiors | ,Whitney J Decor
XO,
Reem