I am just about finished with the One Room Challenge. The rest of the furniture was delivered Friday morning. If you missed Week 1 and Week 2, Week 3 ,Week 4, Week 5, and make sure to take a look.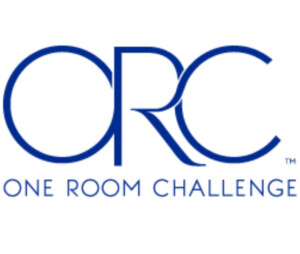 When I agreed to join the One Room Challenge as a feature designer I started to regret my decision very quickly. The basement playroom lounge used to be a very dingy, uninviting, mismatched space and I seriously did not think I can turn this space around. It has lower ceilings than the rest of the house and it just didn't seem like it was possible to get this space looking better. It was "cringy" as my kids would say. But, with some tips and tricks that I have learned over the years, I was able to transform this space into a room my kids are now proud to bring their friends over to hang out in. Take a look at this before shot…I know, embarrassing!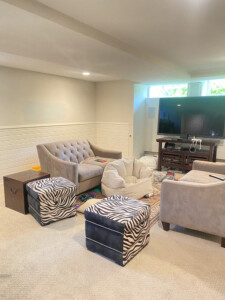 Wow, I just look at this and laugh now! Well, if I were to give somebody a list of tips and tricks on turning a space such as this into an amazing hangout space, I would break them down into a few categories.
Start with an item of interest
I started the design for this space with the wallpaper from Tempaper. You can read all about my wallpaper in Week 2. I pulled the rug, the paint, the sofa color, the throw pillow colors, the chairs all from colors in the wallpaper. I made sure that each of these items would complement the wallpaper well, not match. We don't want them to match, they would clash if we did that. We want them to flow cohesively. Take a look below.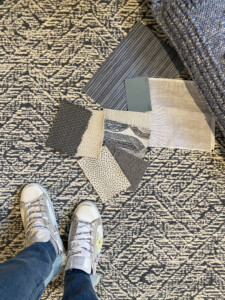 All of these fabric swatches complement the wallpaper, the rug below, and even the pillow color in the far right corner. Together they all blend and make the other items flow. I was able to envision all this by making a moodboard.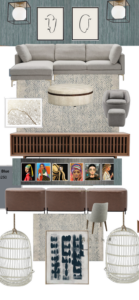 Vertical lines
I chose a wallpaper with vertical lines to help the space feel taller. Our basement playroom lounge has original shiplap detail on the walls. It is absolutely beautiful, but because it was laid horizontally, it doesn't do much to the height of the space. Therefore, I chose a wallpaper with vertical lines to bring the eyes up and make the space feel taller. In addition, I did something, I have never done before, I painted the ceiling.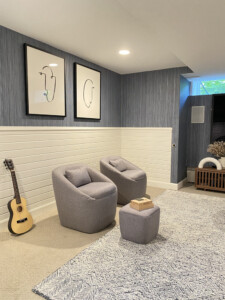 Go outside your comfort zone
Painting the ceiling in just one space made it feel more intimate and it tricks the eyes to making the space feel taller. I normally would never have done this. I would be too afraid because this is something way outside of my comfort zone. But, because I am supposed to challenge myself for this One Room Challenge, I decided to risk it and it was totally worth it. The risk really paid off!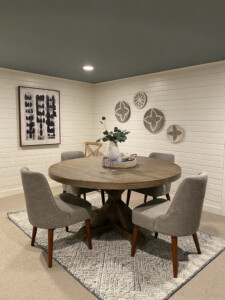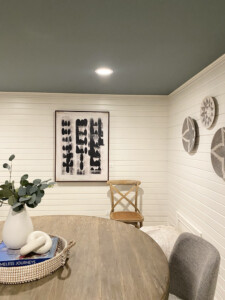 Use paint to add interest
I knew I wanted to paint, but it was just a matter of where and what to paint. The doors have always seemed very blah to me, so I knew that paint was the perfect solution. I painted the 6 closet doors to add interest to that side of the space, but also on the bifold doors that store board games and other fun activities.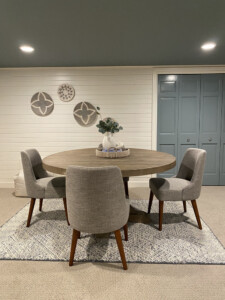 I am sure by now, you have noticed these awesome chairs from Home Pop. Home Pop is another small furniture brand that I discovered recently. I chose 5 modern dining chairs in gray woven fabric. They are extremely comfortable and assembly took less than 5 minutes per chair. Since we play board games here, these chairs were the perfect addition to this space. I love the modern, clean lines, and how sleek they look! They are just perfect.
This was a quick update on my One Room Challenge. Most of my items are linked on my LiktoKnowit Page https://www.shopltk.com/explore/reems_design .
Make sure to come back next week when I will be revealing the sofa from Jonathan Louis. But, please head on over to these other talented designers blogs to see what they are up to for week 6 of the One Room Challenge.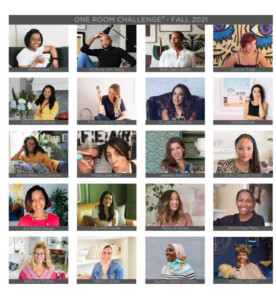 ,Albie Knows| ,At Home with Savvy | ,Beth Diana Smith | ,Eclectic Twist| ,Erika Ward Interiors,From House to Home| ,G. Lebron Interiors | ,Goldalamode | ,Home Made by Carmona| ,Impeccable Nest ,Jeweled Interiors| ,Joyful Designs Studio| ,Joy Street Design | ,Our Fifth House| ,Peony & Honey,Pinch Plate Party | ,Rebecca Propes | ,Reem's Design | ,Saudah Saleem Interiors | ,Whitney J Decor