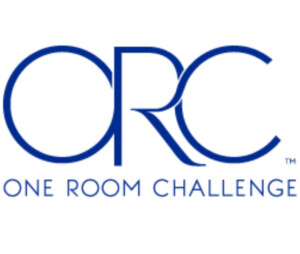 Alas, the time has come to finally reveal my One Room Challenge space. Better Homes and Gardens has sponsored this One Room Challenge this year and I have had an absolute blast as one of the 20 feature designers. It was truly an honor to be chosen and I feel like this was a true turning point for me. I have taken a room that I thought was hopeless to a space that my kids do not want to ever leave everyday and that is the best gift possible. I would like to first start by thanking all of my sponsors. Here is the list of my sponsors below. First, if you missed any of the 7 blog posts for every week of the One Room Challenge, here is a recap… Week 1 and Week 2, Week 3 , Week 4, Week 5, and Week 6, Week 7 . Also, I wanted to do this particular space because it was the worst spot in our house and hopefully that can inspire everyone to tackle their least liked space in their home.
Since I have covered all the above brands in previous posts, I would like to focus this reveal post on the furniture from Jonathan Louis. All my other sources are covered in weeks 1-7. I have been hiding this sofa and ottoman for more than two weeks now and I cannot wait to reveal it. It is the focal point of this entire makeover and it is just gorgeous.
My Sponsors
Mood board recap
Video Gaming/Lounge Space-Jonathan Louis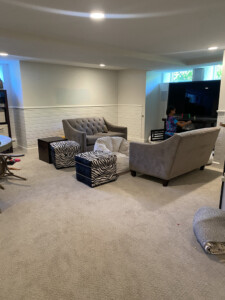 This post is sponsored by Jonathan Louis.
Jonathan Louis is a family-owned and operated furniture manufacturer based out of California. They are one of the largest furniture manufacturers in the United States. They are a group of passionate artists, designers, creators, and builders. They have countless configurations, colors, styles, and fabrics to help bring out each person's individual style.
The brand has a fully customizable collection called Jonathan Louis Design Lab, which was perfect for my project since I could tailor every choice based on my individual style. I designed a loft sofa with a left-facing chaise in Thrillist Pearl fabric, track arms, Gel Plush seating, and walnut cone legs. I layered on a set of custom pillows – their Maximalist Plus package – in Jubilee Steel, Pewter Plaything, Chunky Monkey Pewter, and Groundwork Indigo fabrics.
The icing on the cake is the Bell Storage Ottoman in Jubilee Pearl that has a swivel top opening. This is such a great solution for storage. Needless to say, this sofa,ottoman and pillows from Jonathan Louis Design Lab turned out fabulous!!!!n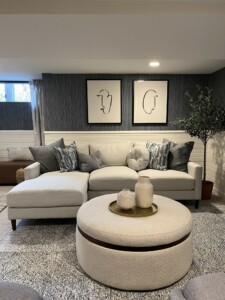 I talked about Jonathan Louis Design Lab extensively in Week 7. This collection truly takes the guesswork out of ordering and choosing your dream sofa. I love that you can customize the size, layout, arms, depth, legs, and comfort with an in-store app! And the fabric selection that Jonathan Louis offers is second to none. I chose Thrillist Pearl because of its durability since this will be in the basement. It is stain-resistant and that gives me peace of mind. In addition, their "Sofa Pop" program allows you to complete your entire look with accent pillows, ottomans, and chairs customized in your choice of fabric. My pillows and ottoman were part of Sofa Pop and definitely complete my space.
I couldn't be more excited and pleased about this sofa. The comfort level is so inviting as well. My kids and their friends have been lounging on this sofa since we got it and it has given my husband and I a comfy spot to watch our kids play the latest level of Super Smash Bros. n
Here is a link where you can learn more about Jonathan Louis Design Lab and find retailers near you.
https://jldesignlab.net/?utm_source=ReemsDesignORC&utm_medium=Blog&utm_campaign=JLDesignLab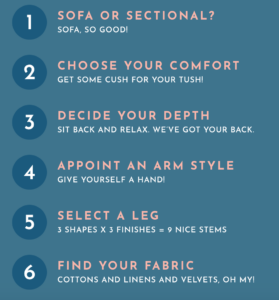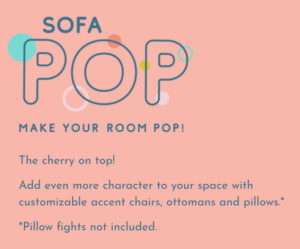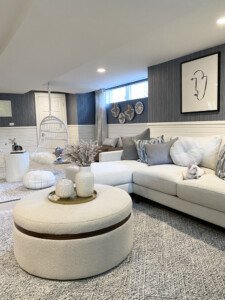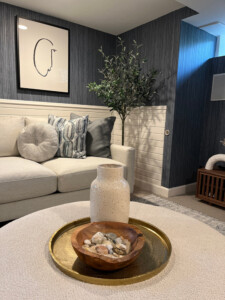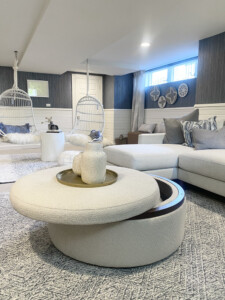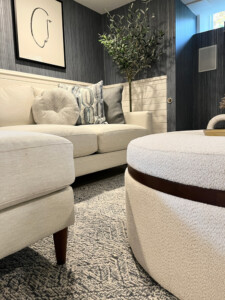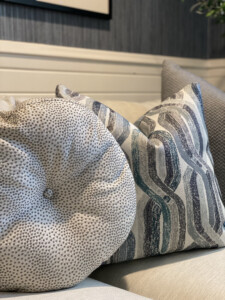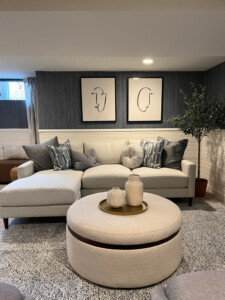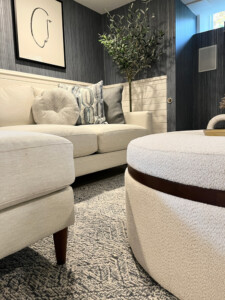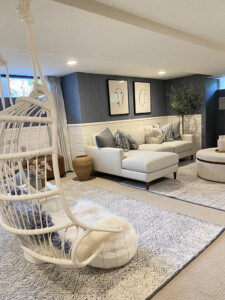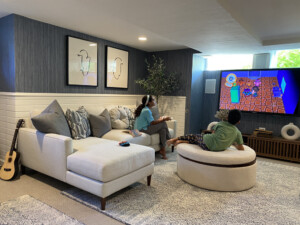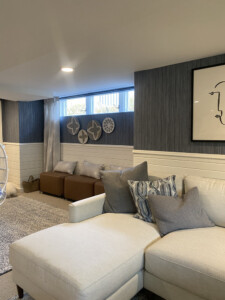 Lounge Area/Window reading nook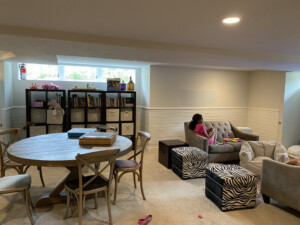 Before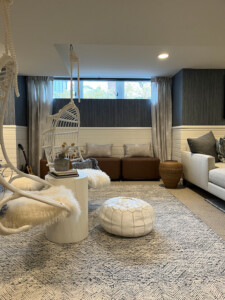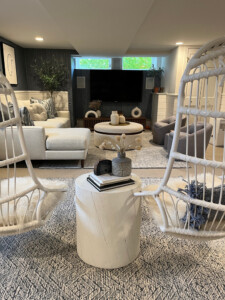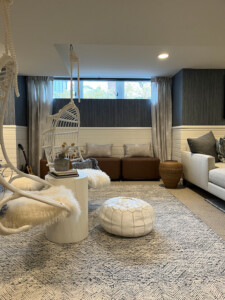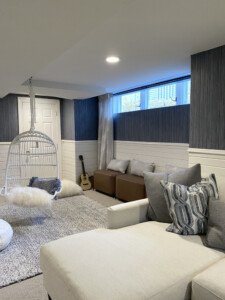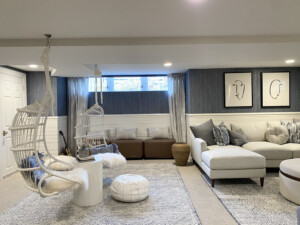 Board game area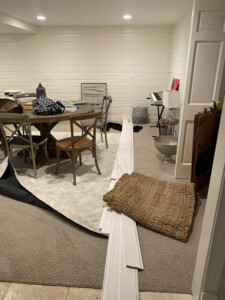 Before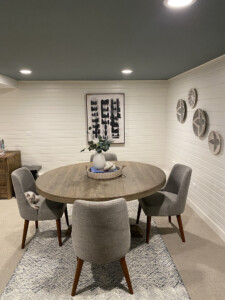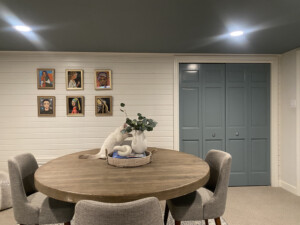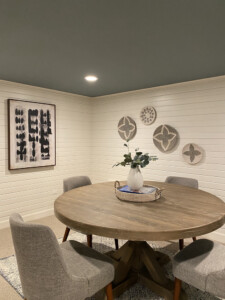 In this area, I also painted the ceiling using Kelly-Moore paint in the color Harrow's gate to match the 6 closet doors and the board game closet.
Closet Doors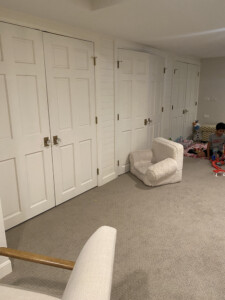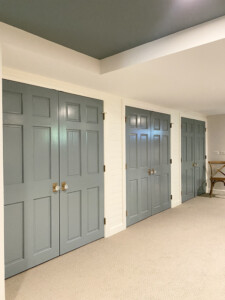 Desk/Crafting space
Let's move on to the desk area. My kids use this to do their homework, draw, and do crafts. I knew these cups of markers and colored pencils were no longer going doing the job. They fall over and they look extremely messy. At first I wanted a floating shelf to put these cups on, but then I thought of s super simple, inexpensive solution.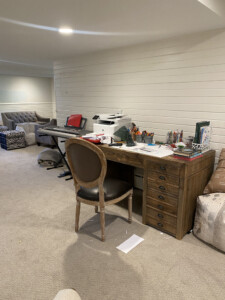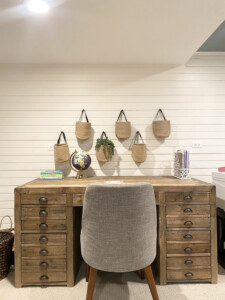 These cute hanging baskets now hold pens, markers, colored pencils, and they are out of sight out of mind. This is such an easy and effective solution. This shiplap was begging for something like this!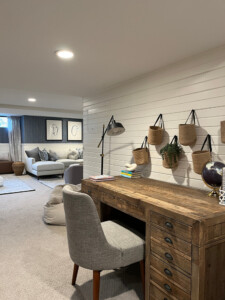 And that is a wrap! I am so blessed and grateful to have had this opportunity and I would like to thank the One Room Challenge and Better Homes and Gardens for choosing me to be one of the 20 feature designers! And, of course, I have to thank my sponsors one more time. They are all mentioned above, but this post has been dedicated to Jonathan Louis Furniture. I have learned so much from this process. But, the best lesson I learned is to never give up on any space. Every space has potential and it is up to you to discover the greatest potential of every space in your home!
,Albie Knows| ,At Home with Savvy | ,Beth Diana Smith | ,Eclectic Twist| ,Erika Ward Interiors,From House to Home| ,G. Lebron Interiors | ,Goldalamode | ,Home Made by Carmona| ,Impeccable Nest,Jeweled Interiors| ,Joyful Designs Studio| ,Joy Street Design | ,Our Fifth House| ,Peony & Honey,Pinch Plate Party |,Rebecca Propes | ,Reem's Design | ,Saudah Saleem Interiors | ,Whitney J Decor