I have made so much progress in my One Room Challenge this week. If you missed Week 1 and Week 2, Week 3 , Week 4, Week 5, and Week 6, please make sure to take a look. Next week is the final reveal for the One Room Challenge and I can hardly wait. So many sleepless nights thinking about my design dilemmas for this space…. the perfect wallpaper for this space, the right tone of blue paint, a black or white sofa, plain ottoman or printed ottoman, what type of rug, should I add light fixtures, is this room good enough to share? Ahhh, I am finally done and I am so proud of my achievement!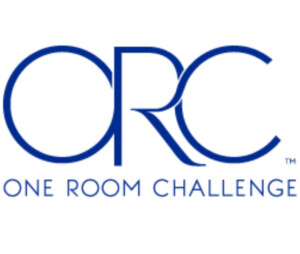 One of the final pieces of my One Room Challenge, is the gorgeous sofa and ottoman gifted to me from Jonathan Louis. First off, I'd like to show you how I brought all the swatches together to create a cohesive design plan. I had an absolute blast choosing my fabrics when customizing my pieces from Jonathan Louis Design Lab. But, I also added some drapes with the help of Spoonflower.
Jonathan Louis Design Lab
When I heard about Jonathan Louis Design Lab, I wondered where this had been all my life. It is a designer's/homeowner's dream. It has made designing a sofa/sectional an absolute breeze. You can customize your sofa with the following options (images taken from the Jonathan Louis Design Lab website) using an in-store app, and then place your order directly at the store. There are retailers all over the U.S. that carry Jonathan Louis Design Lab.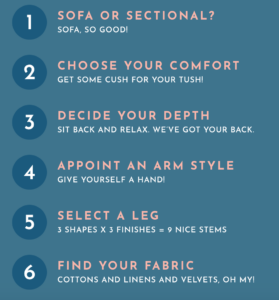 This is absolutely brilliant considering how difficult it is to choose furniture. They take the guesswork out of the equation for you.
Once you have selected your sofa style, you are ready to order swatches and add some "Sofa Pop". This means you can customize your space even more by adding fun throw pillows, chairs, or ottomans to complete your entire look!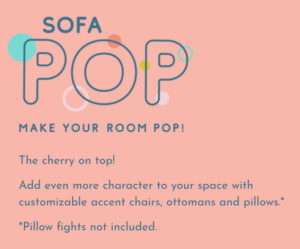 Here are the fabrics I chose for my sofa, throw pillows, and ottoman. As you can see, I used my wallpaper as inspiration for the rest of the design. The smaller fabric swatches are all from Jonathan Louis. These will be used for the sofa, ottoman, and throw pillows. It didn't take me that long to land on this design. I looked on their website and tried to stick to tones in my wallpaper. I am very excited about this design because it ties in so well with the rug, wallpaper, and paint.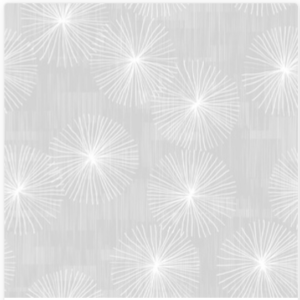 I think it makes the most sense to reveal the Jonathan Louis sofa and ottoman during the final reveal, which is next week. So, you will have to wait just one more week!
Spoonflower
I also finished off the basement space with the help of Spoonflower. Spoonflower is a great brand that is "revolutionizing the textile industry with their on-demand digital printing technology and eco-friendly sustainable and scalable manufacturing processes." I love that you can order wallpaper, throw pillows, tablecloths, drapes, and other textiles in the same fabric. I chose some gorgeous drapes and throw pillows from Spoonflower using the light grey dandelion fabric by Fritzin.
Dandelion really caught my eye because I was looking for something with the slightest pattern as to not clash with the wallpaper, but I didn't want a plain fabric. The subtle dandelion pattern is perfectly whimsical and playful. Not too young, and not too serious and it has just a touch of a coastal pop. It is just perfect!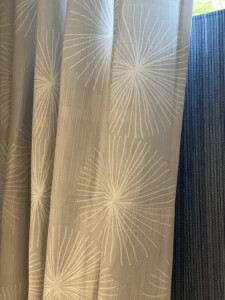 I love that you can see the pattern on this fabric up close, but when you pull away, the pattern almost disappears and this is perfect because I did not want it to compete with the wallpaper. It adds just enough interest to the eye.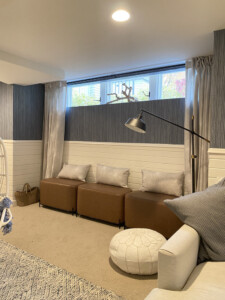 The Spoonflower drapes and three throw pillows completed this reading nook and made it a cozy place to hang. I just love it. The drapes perfectly frame the windows. The quality of construction on the drapes and the stitching on the pillows are truly outstanding.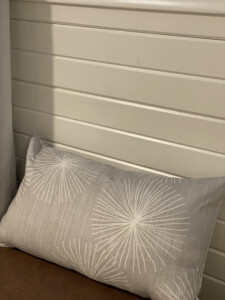 Make sure to check out Spoonflower for an abundance of printed fabrics, textiles, and wallpaper. You can even order your wallpaper and textiles in the same print which would be super fun for any space.
Alas, next week is the final reveal! The completed space will be shared! From the painted ceiling and doors, to the rug selection, to the gorgeous new sofa. I am besides myself and almost in tears as to how I got this far.
See you next week for the final reveal. Please head on over to these other talented designer's blogs to see what they are up to for week 7 of the One Room Challenge.
,Albie Knows| ,At Home with Savvy | ,Beth Diana Smith | ,Eclectic Twist| ,Erika Ward Interiors,From House to Home| ,G. Lebron Interiors | ,Goldalamode | ,Home Made by Carmona| ,Impeccable Nest ,Jeweled Interiors| ,Joyful Designs Studio| ,Joy Street Design | ,Our Fifth House| ,Peony & Honey,Pinch Plate Party | ,Rebecca Propes | ,Reem's Design | ,Saudah Saleem Interiors | ,Whitney J Decor nnMedia ,BH&G | TM ,ORC