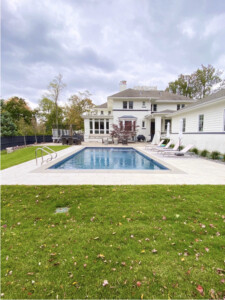 For the past 10-20 years my husband and I have always dreamed of building a pool for our kids to enjoy. We love going on vacation, but with our busy schedules, it just doesn't happen as often as we would like. So, why not bring the vacation vibes home?
Easier said than done.
Initially, we had plans of building a home, and a pool was in the plans. When that fell through, and we bought an older home last September, we promised our kids a pool, and so here we are. Boy oh boy, I did not know how involved this idea was.
The first thing I did was ask around the neighborhood until I found the most reputable pool installer in the area. Since this project is an investment, we had to make sure it is done correctly. We did not want problems down the line! I CANNOT STRESS THIS ENOUGH. You have to look into hiring the most reputable company for a project of this magnitude. From day one, I could tell they knew exactly what they were doing.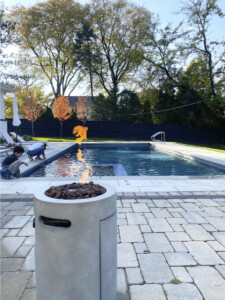 We called this local company,
Deep Downes
, right away in February, and we did not get permit to start until June 9th. That is how long the process took for us. Our village is very picky and Covid-19 slowed things down even more.
Designing the actual layout of the pool was the easy part. We knew we wanted gunite because everybody in our area did gunite, and we just went with that. In fact, this company does not even do fiberglass pools, so that was an easy decision for us. Of course, we looked up the pros and cons, and in the end we decided gunite is the best choice for us. I knew I wanted the pool to extend to the length of the garage and be rectangular and geometric. The difficult part for me was choosing water tile and the pool color.
Here is the layout we decided on. Initially we wanted the pool on 7 ft away from the garage as to not take away grassy area on the south side of pool. However, once these plans went into the village, they came back saying we needed to push it out 10 ft more so that we don't hit electrical lines. These are the things that come up that you really do not expect, and it totally ruined my vision for the area. There wasn't anything we could do about it, so we decided to just keep moving on with the plan. We thought maybe we shrink it to 14 ft wide, but then we decided to just keep it the same size of 17ft wide by 36 ft long and we are so glad we did.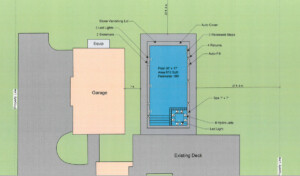 After looking at the budget once more, we decided to omit the spa. Then, when they were framing the pool, at the very last minute, we had a change of heart and re-added it. The spa is only 7ftx7ft, so there is still a lot of room to do laps. We caught them in the knick of time, and re-added the spa. I loved the idea of an integrated spa, so that we do not take anymore yard space. If we had a larger space, maybe I would do a separate spa. As you can see from this perspective, we still have over one half of the yard left, so we were relieved to see this.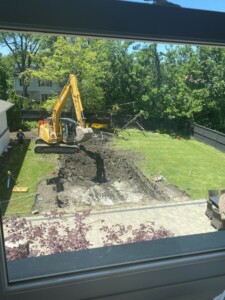 The process of building a pool seemed long, but everyday something was being done. These workers worked every day and even came in on some Saturdays. The next step was to frame the pool. After it was framed, I had a freak-out moment. It seemed so large. The installer kept reminding me that there is still so much more that would need to go down, so it will shrink in size.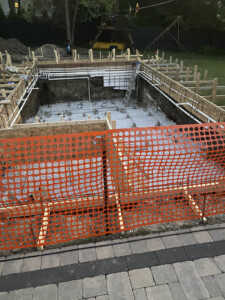 The spa area was framed out and we were so happy to see this. After adding the spa, we were delighted that we kept the pool on the larger side so that if anyone wants to do laps, there is ample space. After they framed it, loads and loads of gravel were put down so that the steel can come in and they can pour the concrete.
The steel went in next and they were ready to shoot the gunite.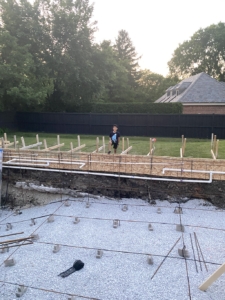 The concrete was shot into the "hole" and the pool was starting to take shape. Although, the mess surrounding the pool started giving me major anxiety. I thought we were almost done at this point, and I was completely wrong. They still had to trench for gas, add plumbing for the spa (since I added it late, they had to retrench that area), and so much more had to be done. At this point, we still had another month ahead of us.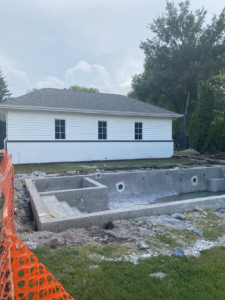 Another thing we did not account for in the initial budget was the actual deck around the spa. This particular company does not install decks, but they referred me to somebody very reputable that was able to take care of all of the other items, like trenching for the gas, removing existing pavers and putting them back after trenching, and grading the yard. These are all things that we didn't exactly account for, but they are just as important as the pool itself. The pool installer did warn us of these "extras" that people are usually surprised by when building a pool.
Decisions, Decisions
It was time for me to start making some decisions that I was putting off. They kept telling me to come into the showroom to choose a tile, and I finally made time to drive out there. At that meeting, I basically failed. I did not choose anything. I had all my pinterest boards, and inspiration pages ready, but I had a very difficult time choosing the waterline tile. I have never done this before. I did not want it to look like an outdated pool. I did not want huge shiny blue pavers with big white grout lines-that I did know.
I took home some samples and held them up against some of the deck choices I had in mind. After many polls on Instagram and thinking about what I really wanted, I finally decided on a waterline tile, and that was a huge relief. At first, I thought about having black slate tile, but I did not want the pool to be too dark because the surrounding tile has an effect on how the water will look, and I knew that slate tended to show watermarks more than other tiles. Here is the tile I decided on. I decided on a matte, blue-gray tile that has the slate look without the upkeep called "Glacier".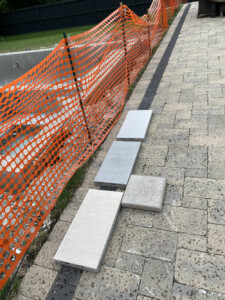 Initially, I wanted to line the top of the spa with mosaic, but I decided against that after going back and forth and going back to my original inspiration photos.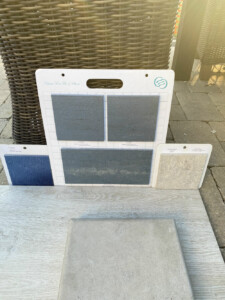 I held up my waterline tile to the coping, Indiana Limestone, to make sure they gelled well and it looked good.
Hardscape
We did not realize that the hardscape to the pool is an added cost. I thought, oh, I'll just have the coping and throw some pavers around the pool with grass in-between and call it a day. Then, we found out that our village requires 4 ft around the perimeter of the pool. And since we had a void between the garage and pool, I thought this is the perfect place to have lounge chairs and a larger area by the pool for the kids to jump into the pool from. Initially, I had chosen a porcelain tile for the deck, but when we found out that you have to add concrete under that and it's an extra cost, we decided against that I started scouring the Unilock catalog for the most perfect stone! I found my solution for the deck. It is called "Arcana" from Unilock and it is a substantial block made mostly out of concrete and aggregates. It's non-slip surface made it great for pool surrounds. Below is a picture of the Arcana stones and the colors they come in. I opted for the Laguno color in an 18×24.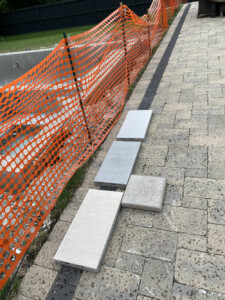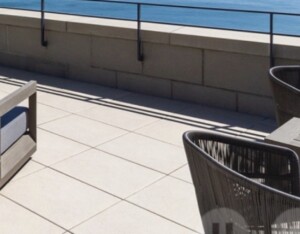 As the waterline tile went down, I started to rethink my decision about laying a beige stone on top of the spa. There was a certain look I was after, which was having the tile on top of the spa matching the coping. Unfortunately, the designer did not explain to me that the waterline tile will also line the spa and having 2 different tiles budding up to each other really bothered me. It did not look seamless, so I made them change it to the same blue waterline tile after laying it down myself and looking at it. This was not an easy change. They had to wait 2 weeks for it to come in, but thankfully, it did not delay anything. The tilers had to come back and install it once the custom tiles came in.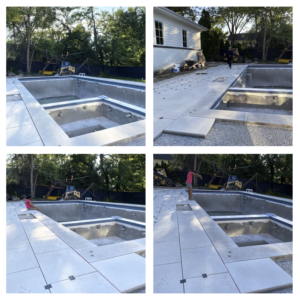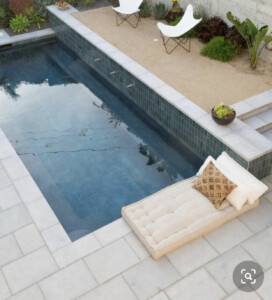 The pool decking came in, and we started laying them down to try to envision how it would look.

Some of my original inspiration photos: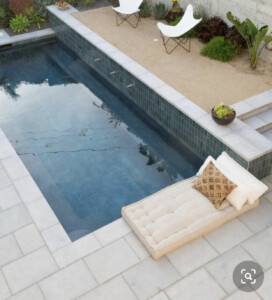 I loved the water color on this one and I loved the spa. The decking was exactly what I wanted as well.
This was another inspiration photo. I loved the clean deck once again, and the color of the water.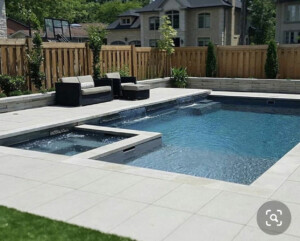 The deck was really starting to take shape and it was starting to finally look like a pool area. My inspiration photo was coming to life and I quickly realized the importance of the hardscape. Another think to note is that the hardscape should really be done before the plaster and before the water is filled, or all the debris will dirty up the pool.
The next decision was the hardest…the plaster color.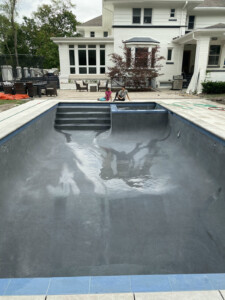 I stressed over this so much and my followers on Instagram and my family can attest to this. There is a jewel-toned color I was after and I could not find pictures of it online. I knew it was not one of the tried and true light blues that are so often found in hotels. I did not want a neon blue either. I looked at over 1000 pictures on Pinterest, and I was not finding what I wanted. My installer gave us some Hydrazzo samples to sleep on so my ruminating began.
I searched and searched. My installer insisted that I should look at French gray. "A gray pool?" I wondered. I knew I've always loved a lighter pool. But when I started noticing the gray pools trending, I thought people might be onto something. It is not the look of the 80s and 90s. It is very different. When it is cloudy it looks almost like a mirror, and when it is sunny, it takes on a jewel-tone like no other. I still was not convinced after seeing numerous celebrities and lots of pools in Palm Springs with gray bases.
So, I quickly reached the deadline for choosing a color and the owner of the pool company called me in the morning. He told me "listen, we need to go out and see some pools today, but you will have to drive 45 minutes out." I told him, "Absolutely!" I knew I needed to see some pools in real life, and so we went.
He took me to three beautiful pools. The first was gulfstream blue. I liked it, but I did not love it. The next was French gray. It was an extremely cloudy day. I liked it, but I was nervous that it was too dark. The next was Catalina blue. The pool was almost a blinding blue. It was a very obnoxious color to me, and I did not like it at all. It took a few days, and I finally made my decision. This is the color that my husband wanted all along, by the way. I emailed the owner and told him that we were going with French Gray!
As soon as they knew the plaster color, the plaster was scheduled within 2 days. They wanted to finish this 2 month project, just as much as we did.
As if I needed one more decision, at the last minute they threw me a loophole and asked me if I wanted tiles lining the stairs and the spa. I thought this looked a bit traditional, but it really does serve as a safety measure. I cannot tell you how many times I walked into a pool and missed my step. I thought, here is my chance to add the pretty mosaic that I always wanted. I quickly texted one of my decor besties, who has a pool and who has helped me along this journey and she said, "Do it"! I figured it would be under the water the whole time anyway, so why not. I am glad we added them. They really add a nice touch.
After they laid those safety tiles, the next day was the long awaited plaster day. I was so nervous. I could see the dark plaster being shot into the pool and I was in panic mode. The hubs kept assuring me that everything will be okay!
The plaster was complete and a huge sigh of relief for me. I was just happy that the process was over and we could start filling the pool! They came to polish the pool the next day and before they left, they helped us get 3 hoses running! It filled in less than 24 hours!
The next day we woke up to an almost filled pool and it was extremely cloudy! The crazy thing about French Gray Hydrazzo plaster is that it is such a chameleon. In the clouds it looks like a mirror and once the sun comes out, it is a jewel-toned blue. It is so beautiful! Take a look for yourself!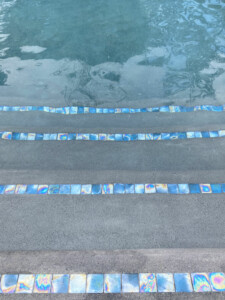 Do your homework before you build a pool! It is not an easy task. Make sure you find a reputable company. And, most importantly, be patient! It is a long process. Now, let's start making memories!